7 DAY TREK + 2 nights accommodation
Challenge yourself and climb to the roof of Africa through the Machame Route. Machame is great for acclimatisation with wonderful scenery and high success rates.
The Machame route is the most popular and therefore also one of the busiest routes on Mt. Kilimanjaro. Due to the ascent and descent over its duration – following the golden rule of 'climb high and sleep low' – the Machame Route offers some of the best acclimatization and the greatest summit success. The Machame Route is definitely recommended for people experiencing high altitude mountaineering for the first time. It takes you in some of the best geological features on the mountain. Descent is via Mweka Route. A minimum of 6 days is needed, but for more comfort and to increase your chance of success, 7 days are recommended.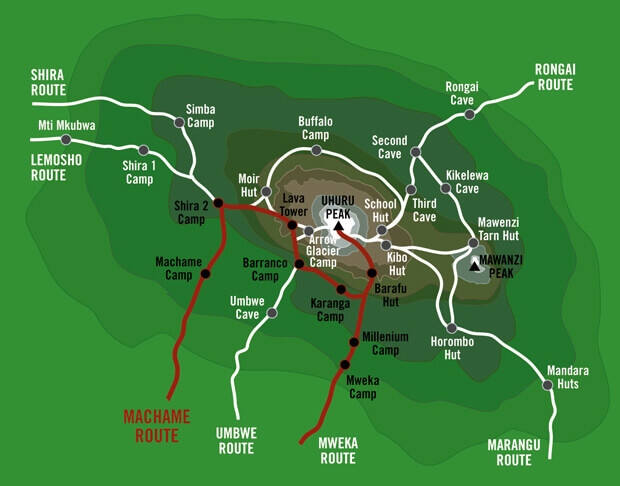 DETAILED ITINERARY
DAY TO DAY
WHAT IS INCLUDED IN THE PRICE?
OUR TREK ITEMS & SERVICES INCLUDE
Accommodation & Logistics
Items & services NOT included
COMBINE YOUR KILIMANJARO TREK WITH A SAFARI
SUMMIT TO SAFARI & BEACH
Why not extend your adventure with an unforgettable 
safari 
SCHEDULED OPEN GROUP TREKS
7 DAY MACHAME ROUTE DATES FOR 2020
ARTICLES TO HELP YOU PLAN THE PERFECT KILIMANJARO ADVENTURE
READ OUR BLOG
Kilimanjaro COVID-19 Update President John Magufuli said on Sunday that he was looking to encourage foreign tourists, business...