The Crater Camp
Sleeping on the "Roof of Africa"
Crater Camp Overview
Are you looking for a really unique adventure? Try sleeping on "the Roof of Africa" in Crater Camp on Mount Kilimanjaro, at 5.730 (18,484ft) metres. It is an incredible wilderness environment and a unique place. If you have experience at altitude and love something challenging then sleeping overnight in Kilimanjaro's Crater is a fantastic option. You do not need to join the mad midnight rush up to the summit but can instead walk up normally during the day with the trail almost exclusively to yourself. At the summit there are no crowds, so you have time to stop and take in the view and atmosphere. Staying overnight in Crater Camp also gives you time to visit Kilimanjaro's remaining glaciers and take a tour of the ash pit at the heart of Kilimanjaro's volcano. And the next morning you only have a short walk to the rim of the Crater so you can make sure to be there to see the sunrise.
The Crater Camp is a serious challenge to acclimatisation and should only be undertaken by those who have acclimatised well. Most climbers on Kilimanjaro suffer from some signs of altitude sickness but they go down quickly before the problems become serious. If you sleep overnight in Crater Camp you do not have this safety margin.
Key Points:
Difficulty rating: +++
Should only be attempted by strong hikers who have acclimatised well
Specatular sunset and sunrise
Offered via Machame, Lemosho & Northern Circuit Routes
Explore Kilimanajro`s crater ash pit and glacier.
The Crater Camp via Machame
Sleeping on the "Roof of Africa"
from $2399
per person sharing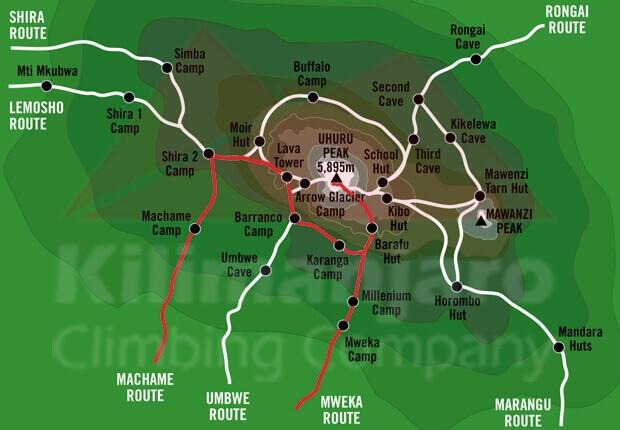 The Crater Camp Day-to-Day Itinerary
What's Included
Return airport transfer from Kilimanjaro International Airport to your hotel
Two nights bed and breakfast hotel accommodation
An expedition briefing prior to leaving for the mountain
Kilimanjaro park entry permits
Kilimanjaro park camping permits
Mountain rescue permit
Helicopter evacuation registration fee
Bilingual guides
Expedition porters and cooks
Expedition food to include a hot breakfast,packed lunch, a hot evening meal and snack food available at camp + hot drinks.
Staff transport, meals & wages
High quality sleeping tents, 2 persons per tent
Mess tent with tables and chairs
Private toilet
Safety equipment to include short wave radios, a satellite phone, oxymeters, oxygen cylinder, large expedition first aid kit and means of evacuation.
Uhuru or Stella Point certificate of achievement
[/list]
What's Not Included
Return flights to/from Kilimanjaro International Airport
Entry Visa ($50 Europe/ $ 100 USA) can be obtained on entry
Personal travel INSURANCE (specific to high altitude trekking and travel in rural Africa)
Gratuities
Vaccinations for travel to region