HELICOPTER EVACUATION FROM THE MOUNTAIN
KILIMANJARO HELICOPTER SEARCH & RESCUE
Although seldom, the situation may rise where a climber gets ill or seriously injured on Mount Kilimanjaro and a helicopter evacuation may be required.
Our affiliation with Kilimanjaro Search & Rescue has this covered. Kilimanjaro SAR can have a chopper on the mountain in as little as 15 minutes.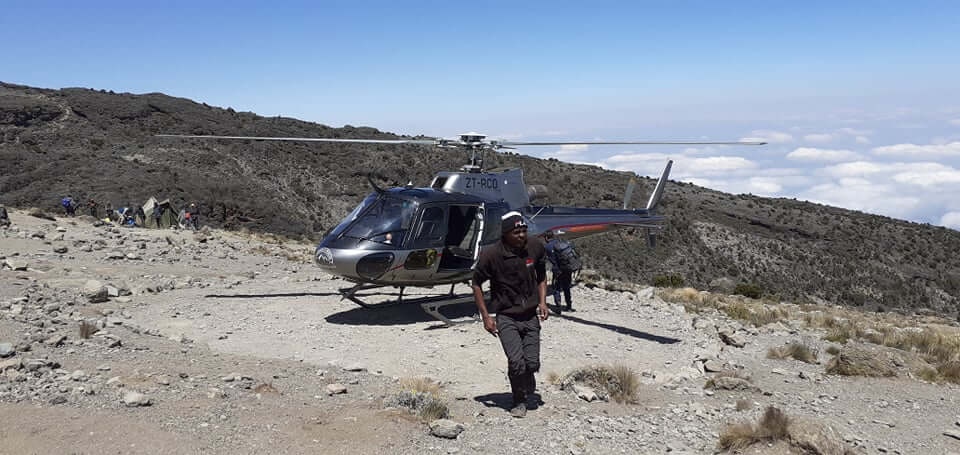 KILIMANJARO SAR MISSION
"making Kilimanjaro the safest tourist destination in Africa``
Based in Moshi, Kilimanjaro SAR can provide an emergency evacuation from any feasible landing area. Their high-altitude helicopters and fully-trained medical personnel are able to respond within 5 minutes.
IMPORTANT
KILIMANJARO TRAVEL INSURANCE & MOUNTAIN EVACUATION
In an emergency situation, you don't want to waste valuable time getting approval from your insurance company.
With a guaranteed response time of 5 minutes from the time they receive the distress call, an injured climber can be in a helicopter receiving medical treatment in as little as 15 minutes. After landing at Moshi Airport, the patient is transferred to the high altitude medical clinic for further treatment.
Kilimanjaro SAR is committed to providing urgent care and evacuation for everyone on the mountain. As part of their charitable foundation, they provide evacuation and medical treatment free of charge for guides, porters, all climb support staff and park rangers.