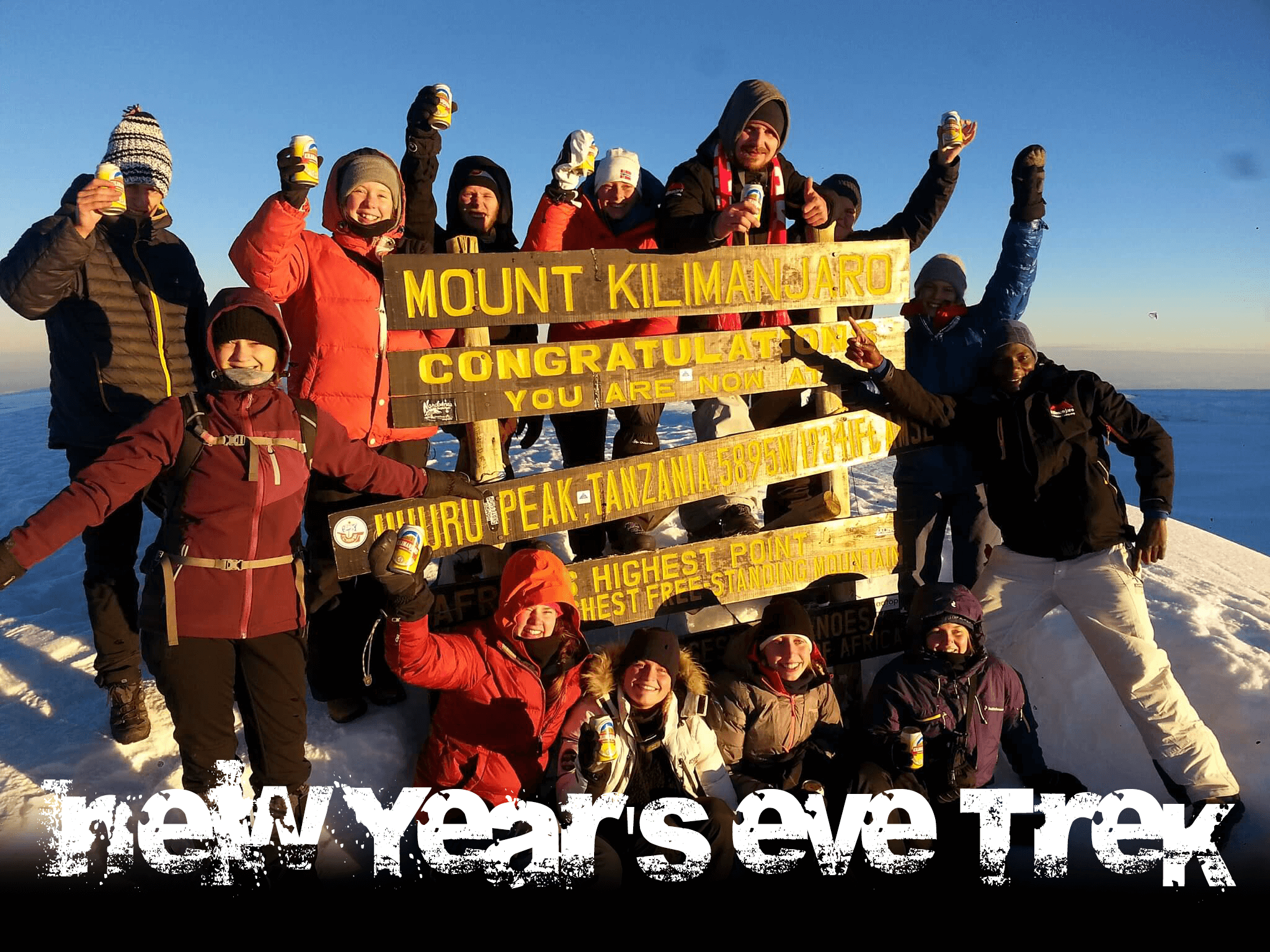 START 2023 WITH THE ULTIMATE HIGH
STAND ON THE ``ROOF OF AFRICA`` AT THE SUMMIT OF MOUNT KILIMANJARO
- SUNRISE ON NEW YEAR'S DAY -
Imagine standing on the summit of Kilimanjaro on the morning of the 1st of January 2024,  with the world below you and achieving something unforgettable. Every new year is a fresh start, ripe with new opportunities and the chance to gain a new perspective. Why not start as you mean to go on – And climb Kilimanjaro to do it!!
Celebrate
above the clouds!
Make this New Year one to remember!
Since the COVID-19 pandemic started, it has been a challenging time for all of us. A time to realise – Life is too short! We are coming through it all now, so why not begin ticking off your bucket list and take a refreshing step into the positive unknown – a remote setting and achieve something AMAZING. Escape reality and figure out what you want to gain from the coming year, experience something completely different and perhaps a little outside of your comfort zone to start the new year the way you want it to continue?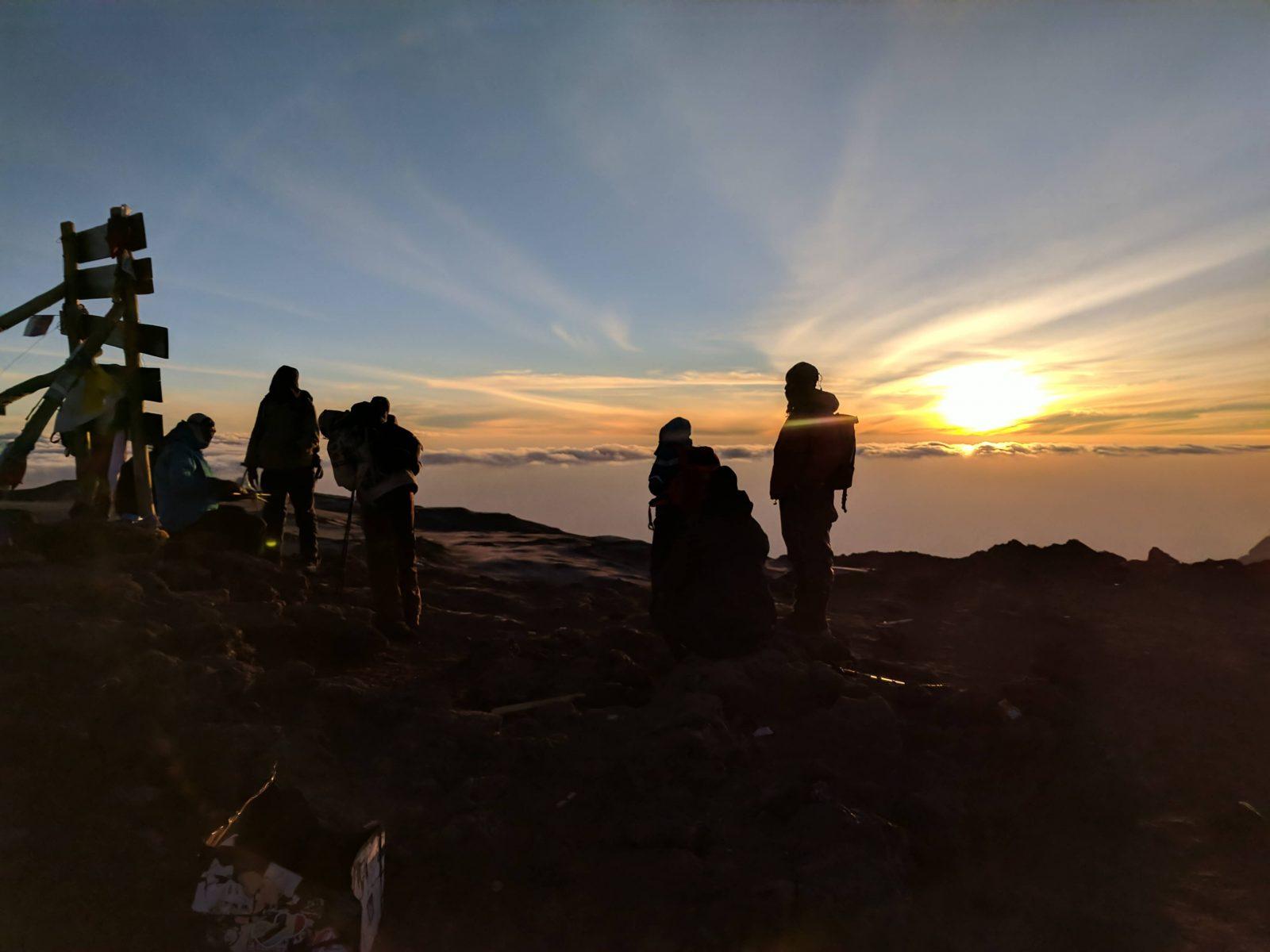 DO SOMETHING UNFORGETTABLE
Watch the sunrise from the Summit of Mt Kilimanjaro on the morning of a
NEW YEAR
Our chosen route for this awesome climb is the Machame Route. Due to the ascent and descent over its duration – following the golden rule of 'climb high and sleep low' – the Machame Route offers some of the best acclimatization and the greatest summit success with wonderful scenery.
We will climb through 5 climatic zones from deep rainforest to arctic desert – reaching an altitude of 5895m with our end goal of standing on the roof of Africa at the dawn of New Year's Day.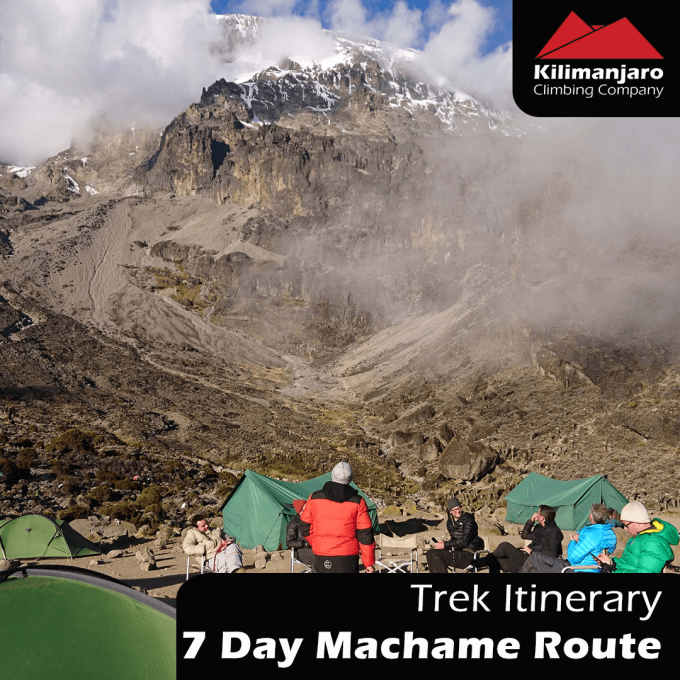 26.12.2023
You need to arrive in Tanzania at least one day before we start trekking. Upon arrival, you will be met by one of our KCC team and transferred to your hotel in Arusha, where you can freshen up. After a welcome briefing you will have a chance to meet your fellow adventurers and let your New Year Kilimanjaro Adventure begin!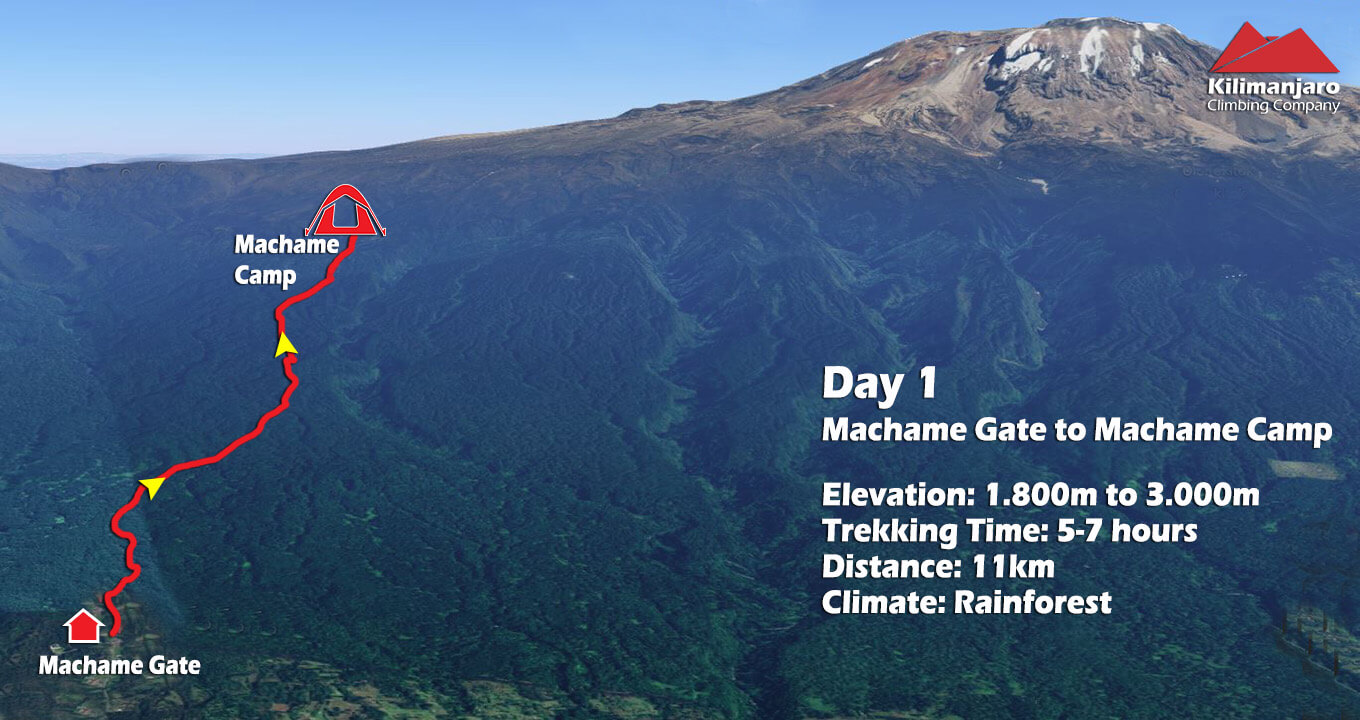 Day 1
Following a final cross-check of equipment and supplies, our staff will drive you to the Machame Gate. Anything you do not want to take with you on the mountain can be left at a lock up in the hotel. The drive from Arusha to the Machame Gate takes about 50 minutes. The journey passes through the village of Machame which is located on the lower slopes of the mountain. As we leave the park gate, we walk through the dense rain forest on a winding trail up a ridge until we reach the Machame Camp.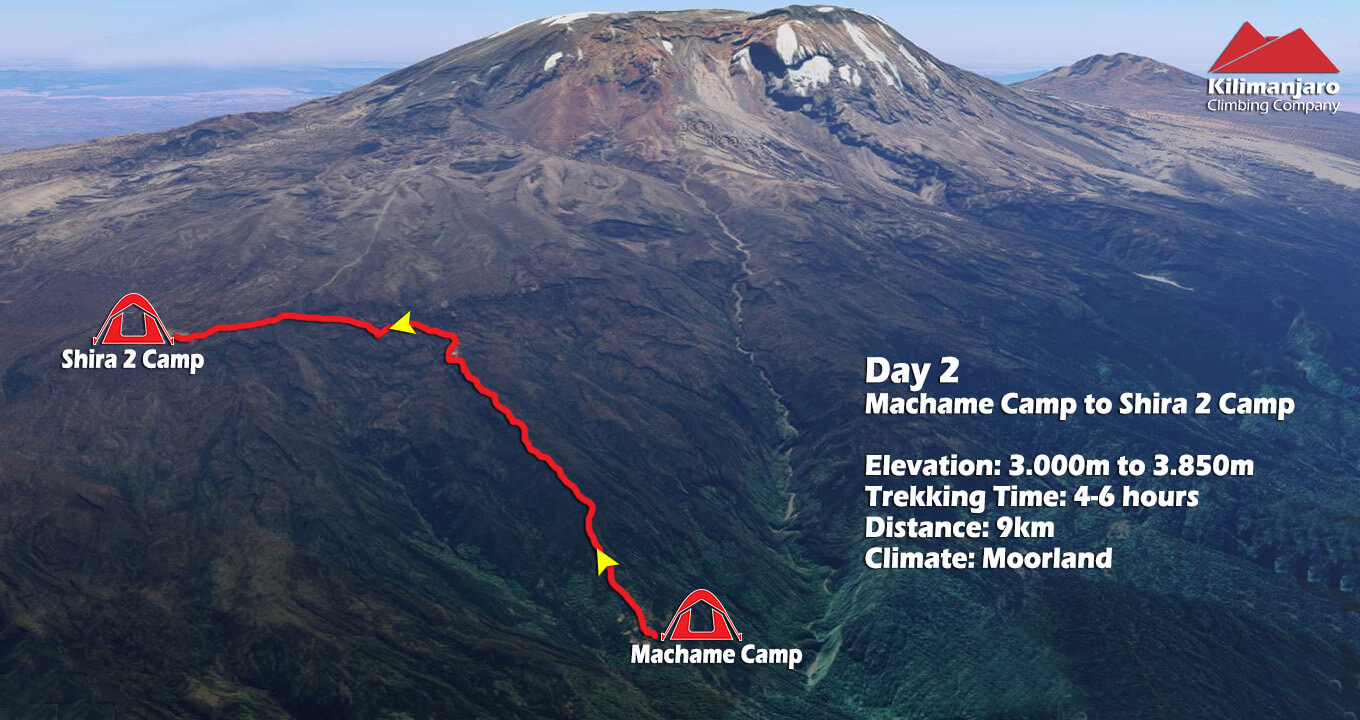 Day 2
You will be woken up after your first night on the mountain with a nice cup of coffee, tea or hot chocolate at 6:30am in your tent. After breakfast we leave the rainforest and continue our ascent crossing a small valley into open moorlands where the vegetation is sparse with small shrubs and up to a steep rocky ridge. After a short break, our route turns onto a river gorge and up to Shira Plateau where you will catch your first glimpse of the Western Breach and its stunning glaciers. Continuing on to Shira Camp, where the cook will welcome you with boiled drinking water and hot washing water. After a hot lunch, there is plenty of time to explore the Shira Caves or just relax and rest until being served your hot dinner. Due to the camp being very exposed it can get very cold and sometimes windy.


Day 3
We pack up and leave Shira camp for a 4-5 hour trek to the well-known landmark of Lava Tower (4.600m) for acclimatization. Once reaching Lava Tower we will have a short break for lunch for some bonus acclimatization before starting a 2 hour descent by 650m to Barranco Camp, following the golden rule of acclimatization 'climb high and sleep low'. This will be our toughest day so far but the climb offers multiple terrific opportunities for photos. As we descend through the valley, the amazing sight of the Giant Groundsels is bound to stop you in your tracks. Barranco Camp gives you a beautiful view of the Western Breach and Breach Wall and be prepared with your camera while you are waiting for dinner for what could be one of the most spectacular sunsets you have ever seen as the sun drops down into the valley.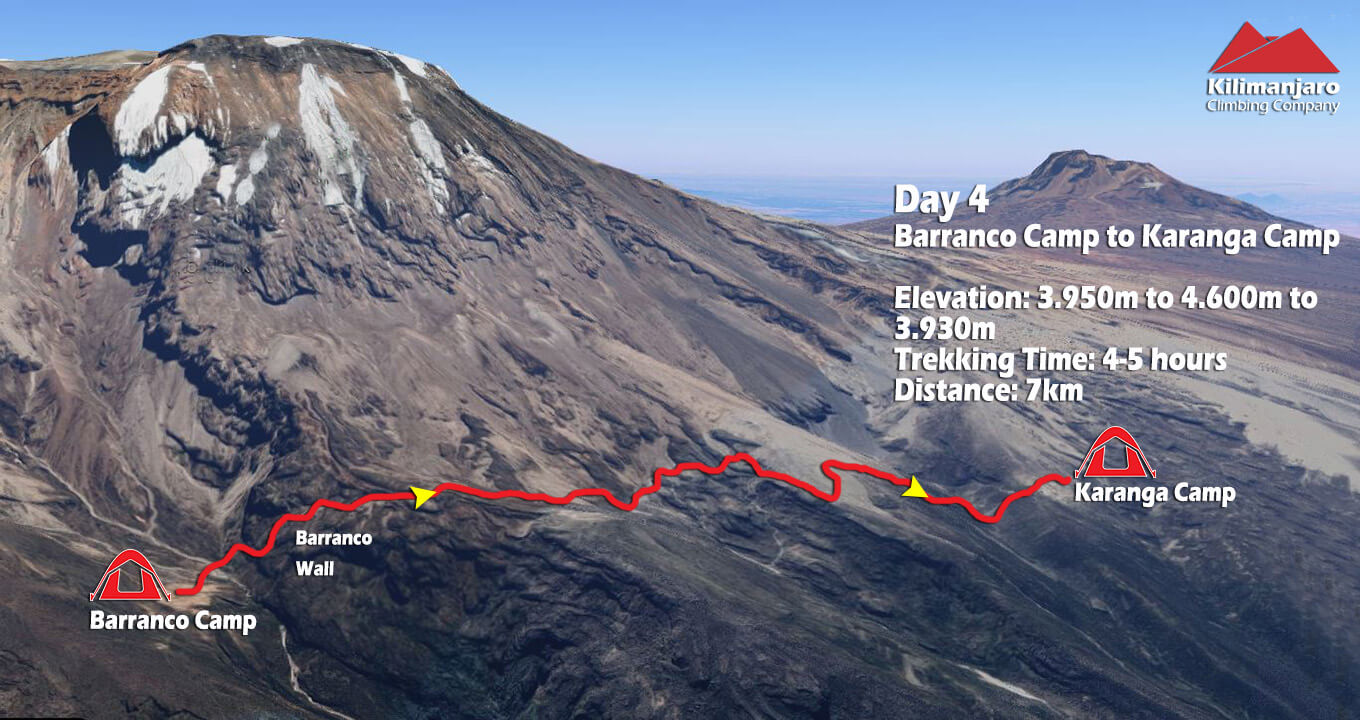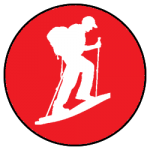 Day 4
We begin the day by descending into a ravine to the base of the Great Barranco Wall. Then we climb the non-technical but steep, nearly 900 ft cliff. From the top of the Barranco Wall we cross a series of hills and valleys until we descend sharply into Karanga Valley. One more steep climb up leads us to Karanga Camp. This is a shorter day meant for acclimatization.
Ca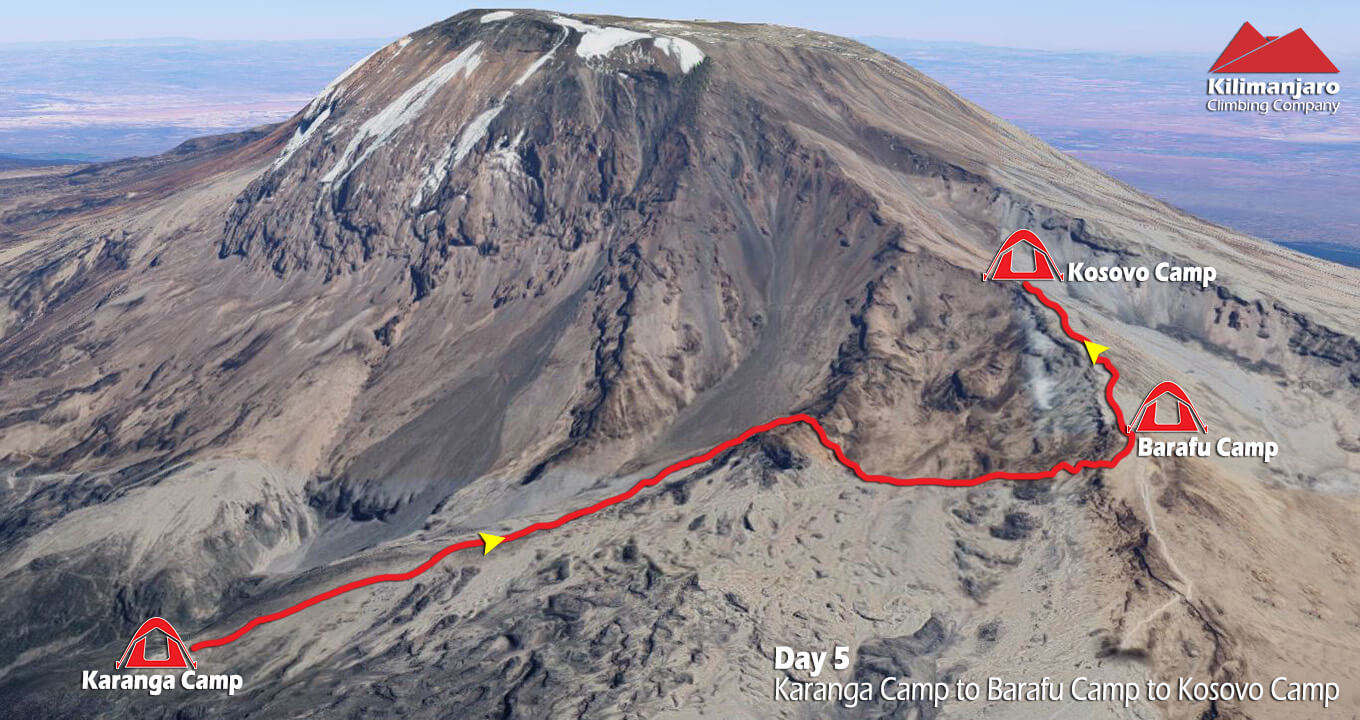 Day 5
We leave Karanga and hit the junction which connects with the Mweka Trail. We continue up to the rocky section to Barafu Hut. At this point, you have completed the Southern Circuit, which offers views of the summit from many different angles. After a short break, we will push on to our special camp – Kosovo. This is our secret weapon for acclimatisation – leaving the crowds of Barafu we will ascend 4800m Here we make camp, rest and enjoy an early dinner to prepare for the summit day. The two peaks of Mawenzi and Kibo are viewable from this position.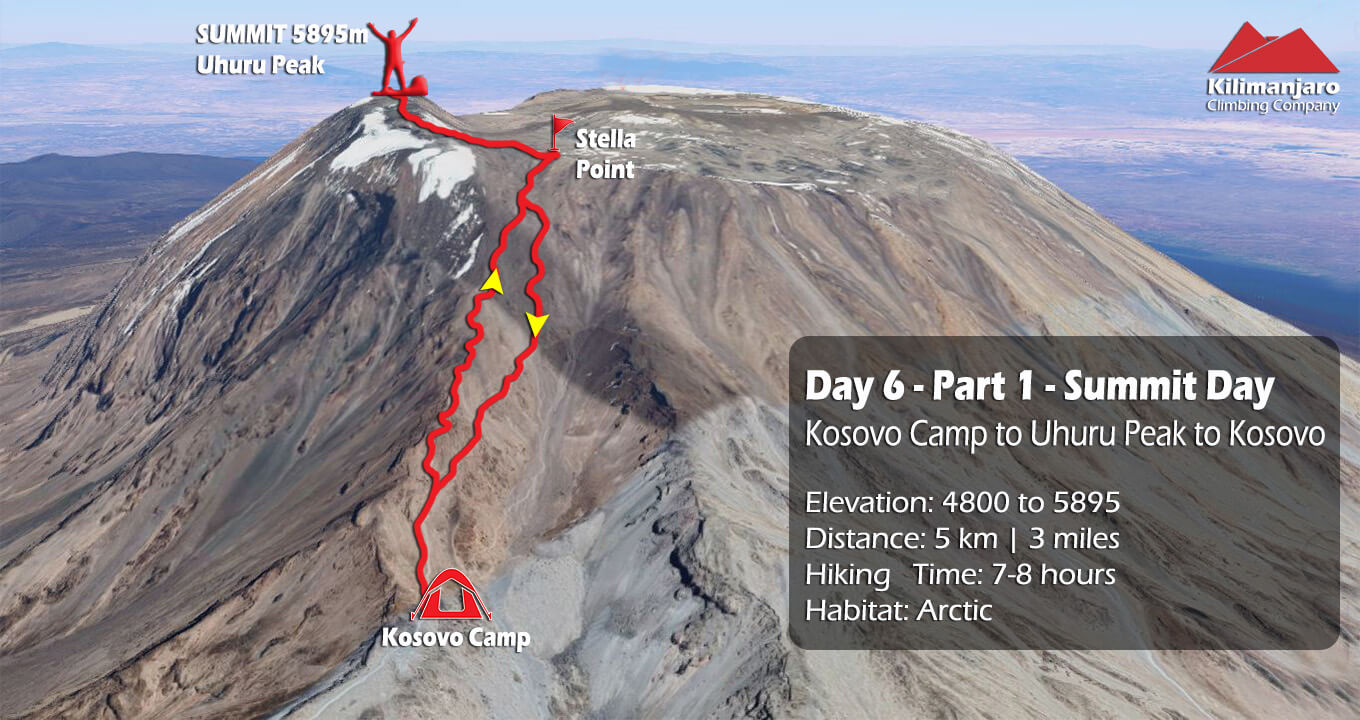 Day 6 – SUMMIT DAY  – Part 1
Very early in the morning (around midnight), we begin our push to the summit. This is the most mentally and physically challenging portion of the trek. The wind and cold at this elevation and time of day can be extreme. We ascend in the darkness for several hours while taking frequent, but short, breaks. Near Stella Point (18,900 ft), you will be rewarded with the most magnificent sunrise you are ever likely to see coming over Mawenzi Peak. Finally, we arrive at Uhuru Peak- the highest point on Mount Kilimanjaro and the continent of Africa.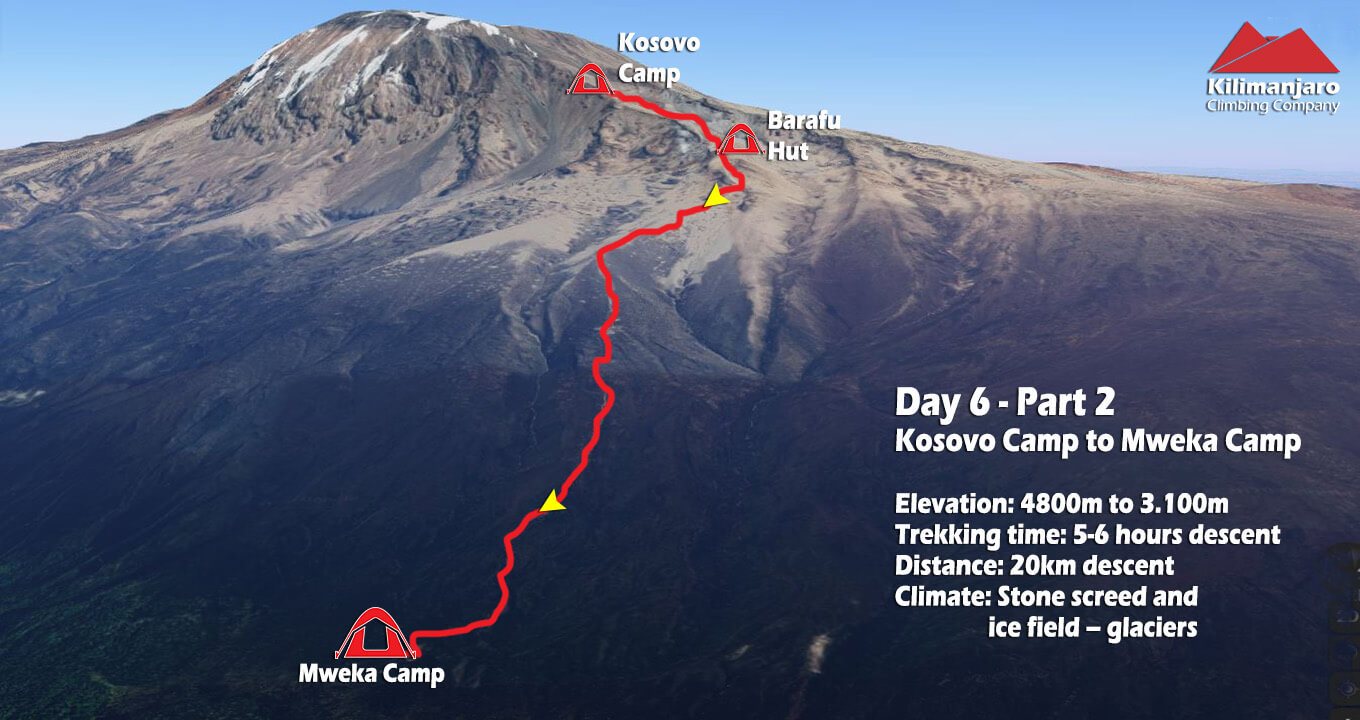 Day 6 – SUMMIT DAY – Part 2
From the summit, we now make our descent continuing straight down to the Mweka Hut camp site, stopping at Barafu for lunch. The trail is very rocky and can be quite hard on the knees; trekking poles are helpful. Mweka Camp is situated in the upper forest and mist or rain can be expected in the late afternoon. Later in the evening, we enjoy our last dinner on the mountain and a well-earned sleep.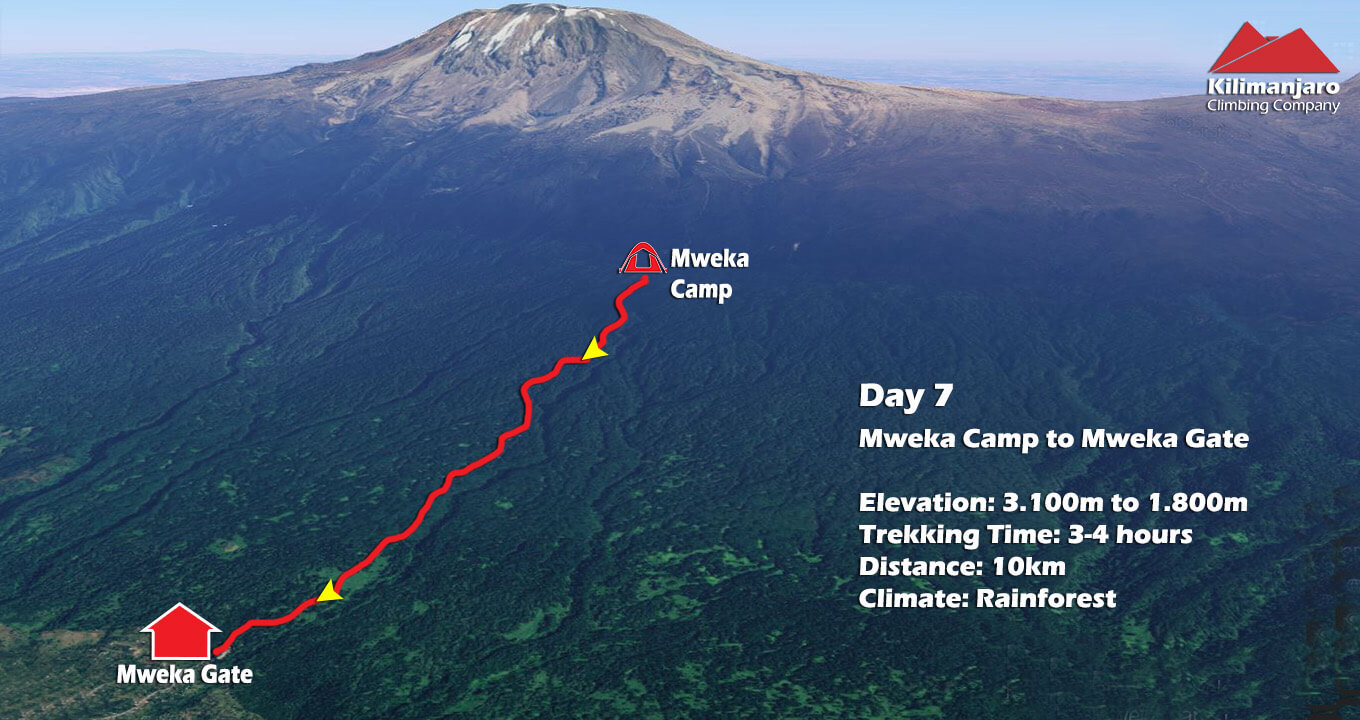 Day 7
On our last day, we continue the descent to Mweka Gate and collect the summit certificates. At lower elevations, it can be wet and muddy. From the gate, we continue another hour to Mweka Village. A vehicle will meet us at Mweka Village to drive us back to the hotel in Arusha.
03.01.2024
If your time in Africa ends today our transfer team will drive you back to Kilimanjaro International Airport (JRO) for your departure. If you have booked with KCC for a safari or a few days to dissolve into the pristine sandy beaches and tropical waters of Zanzibar, we will be there to help you comfortably transition from your climb into your next Tanzanian adventure.
The Ultimate way to see the dawn of a
New Year!
Right now is one of the best times to set yourself the challenge of achieving something you've never done before!
Isn't jumping into the unknown and seizing the day part of the excitement? It's only natural to be apprehensive about the challenge ahead, but what's great about climbing with us  is that you won't be doing it alone. You're doing it with a group of people just like you and with a fantastic team of specialists that will help and support you the whole way.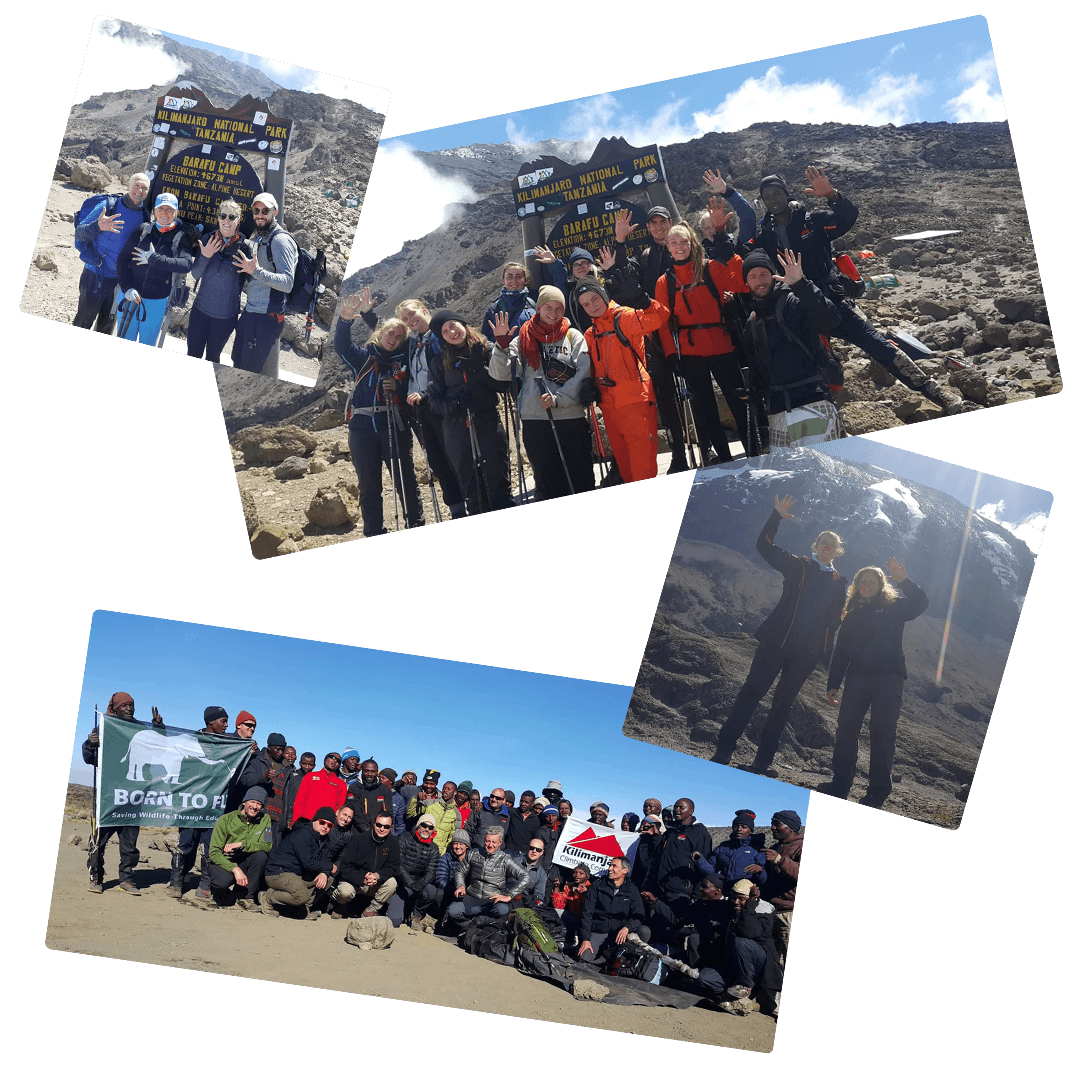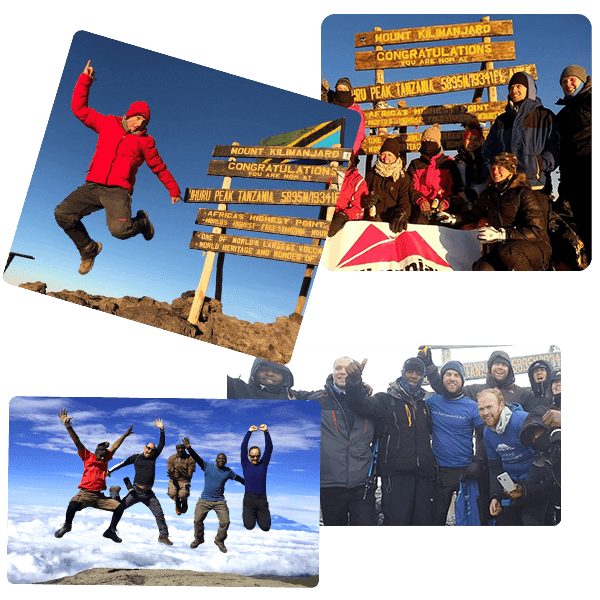 Time is ticking! 
Get in touch to get your place.
There's really no reason not to give yourself the chance of starting your year in epic style.
0

days
00

hr
00

min
00

sc

REWARD YOURSELF WITH SOMETHING SPECIAL
You have come all this way and started the year on a HIGH
Tanzania has so much more to offer so why not take the opportunity and keep on exploring
Climbing Mount Kilimanjaro in Tanzania is already a once in a life time experience but while you are there, why not consider adding a few more days to your trip by visiting the most intriguing National Parks of Tanzania?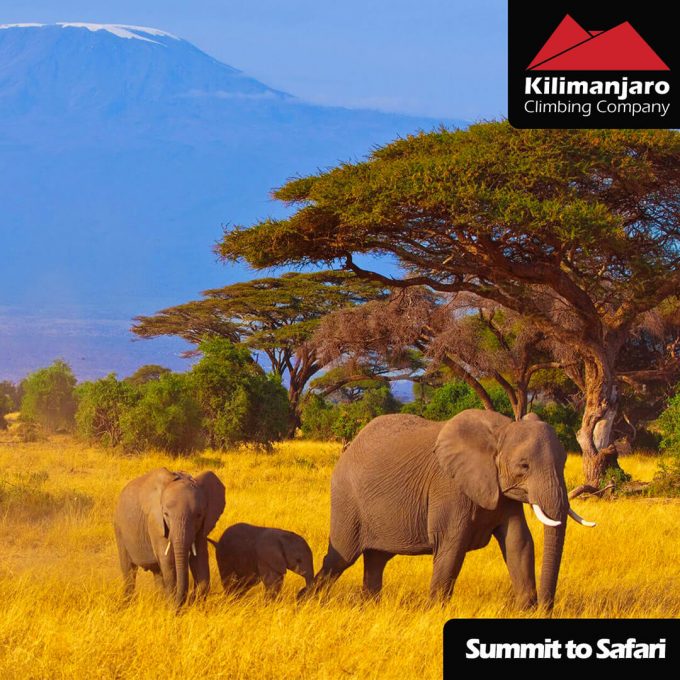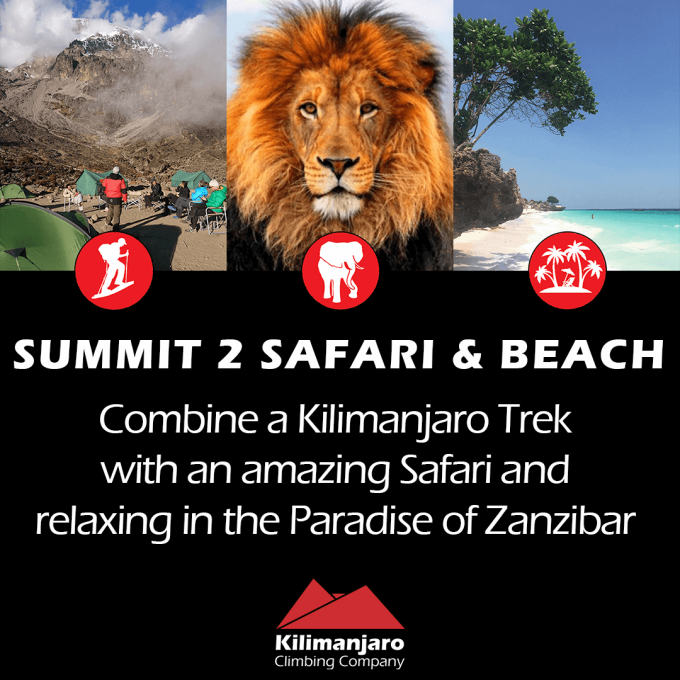 This unique once in a life time trip will immerse you in to the real Africa by combining three diverse experiences encompassing the adventurous splendor which Tanzania has to offer.