The Marangu Route
Accommodation in wooden huts
Marangu Route Overview
The Marangu Route is one of the shortest and unlike any other route accommodation is in huts instead of tents. The reputation of being the easy way to the summit is not true and inexperienced trekkers should be aware that the route offers less of a chance to acclimatise than some of the so called harder routes.
The Marangu route begins at Marangu gate and ascends through forest to the Mandara Huts which are named after the fearsome Chagga chief of Moshi. Hut accommodation is in dormitory style and for those that have an aversion to camping the huts offer the best option to trekking on Kilimanjaro.
The Marangu Route ascends through moorland to Horombo Huts where two nights are spent for acclimatisation reasons. The Marangu route then ascends to Kibo Hut through alpine desert and the last water point on the route. From Kibo Hut the route ascends to Uhuru Peak via Gilman's Point. Descent of the mountain is a re-trace of the route with another night spent at Horombo Hut.
Key Points:
Difficulty rating: ++
Approximate length: 64km
of Days: 5 or 6 (+2 nights accommodation in Hotel)
Only route on Mt. Kilimanjaro which offers accommodation in huts
Shortest route to the summit – unfortunately lower success rate
Ascent and descent on the same route
The Marangu Route
Accommodation in huts
from $1999
per person sharing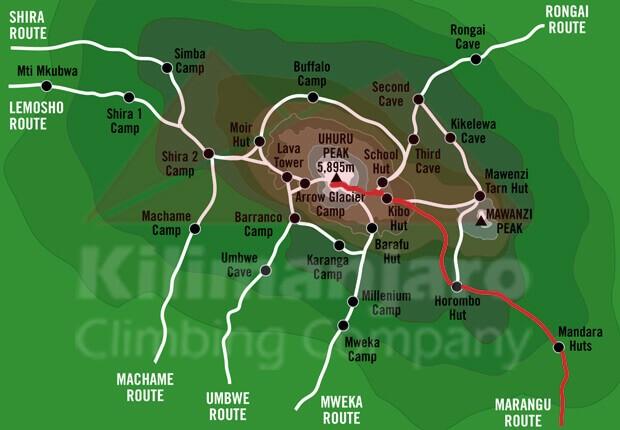 The Marangu Route Day-to-Day Itinerary
What's Included
Return airport transfer from Kilimanjaro International Airport to your hotel
Two nights bed and breakfast hotel accommodation
An expedition briefing prior to leaving for the mountain
Kilimanjaro park entry permits
Kilimanjaro park camping permits
Mountain rescue permit
Helicopter evacuation registration fee
Bilingual guides
Expedition porters and cooks
Expedition food to include a hot breakfast,packed lunch, a hot evening meal and snack food available at camp + hot drinks.
Staff transport, meals & wages
Accomodation in wooden huts
Mess tent with tables and chairs
Safety equipment to include short wave radios, a satellite phone, oxymeters, oxygen cylinder, large expedition first aid kit and means of evacuation.
Uhuru or Stella Point certificate of achievement
What's Not Included
Return flights to/from Kilimanjaro International Airport
Entry Visa ($50 Europe/ $ 100 USA) can be obtained on entry
Personal travel INSURANCE (specific to high altitude trekking and travel in rural Africa)
Gratuities
Vaccinations for travel to region