ON THE MOUNTAIN
DAILY SCHEDULE - ON THE MOUNTAIN
What is a typical day on the mountain like?
On a typical day on the mountain, you will be woken by your guide at around 6:30 with a hot drink of your choice and given a bowl of hot water to wash your hands and face to freshen up for breakfast. Breakfast is generally served at 7:00 in the mess tent where you will be briefed on the days trekking ahead.
Wakey Wakey !!!!
In general your day starts with a hot drink (coffee. tea or hot chocolate) that is brought to your tent at around 06:30am. After your wake up drink you will get a bowl of hot water to freshen up and prepare for the climb ahead i.e. packing you day pack- your sleeping bag and matress and the rest of your kit in to your duffel bag so the porters can already start to run ahead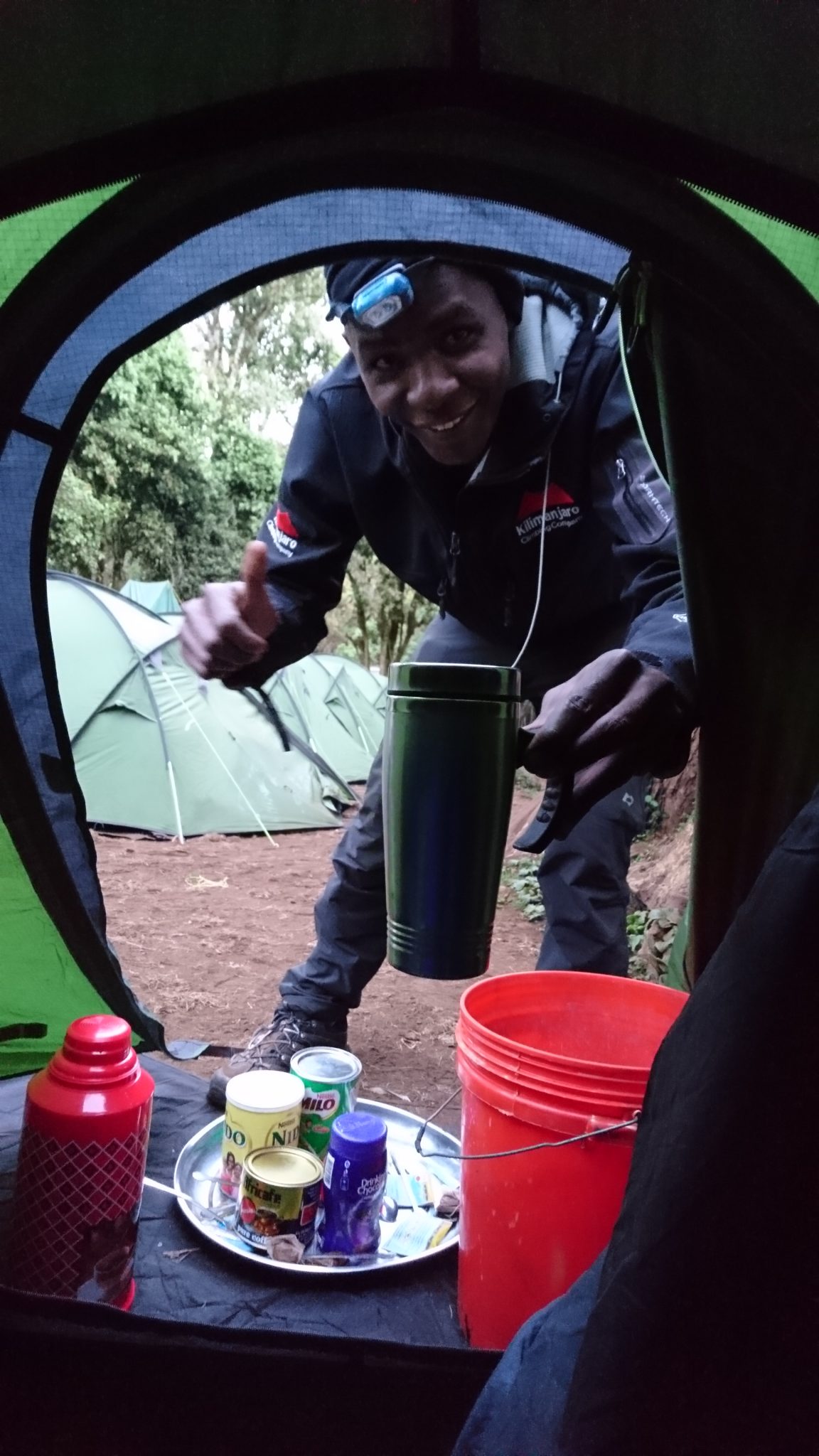 Breakfast Time…..
Breakfast is served between 07:00 and 07:30am. Our Kilimanjaro breakfast includes eggs (boiled or fried), porridge, a saveloy, some tomatoes, a piece of fruit such as a banana or orange, some bread with jam, honey or peanut butter and a mug or two of tea, hot chocolate or coffee.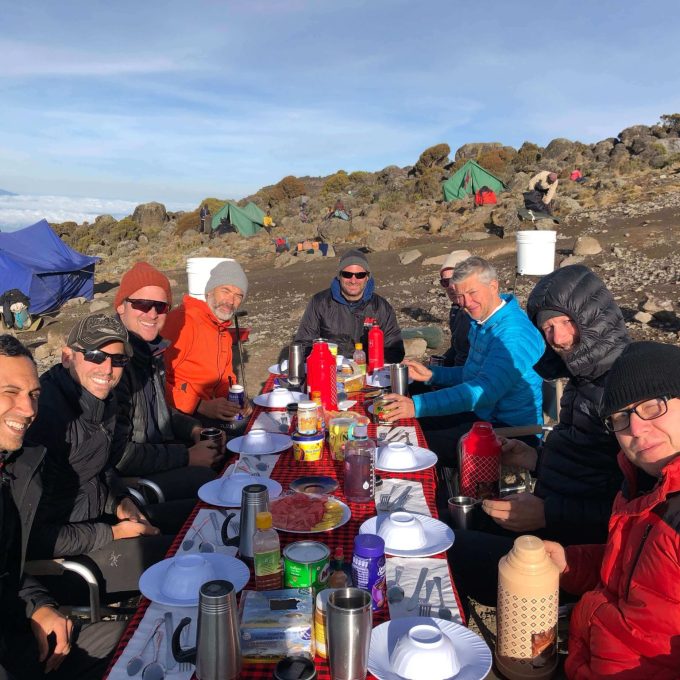 And we're off…
After breakfast the guides will give you the daily briefing and advise you on what to pack in you daypack. Our porters will run ahead with your main luggage to the camp. For that reason it is very important to choose your day pack with care. Our recommendation is to use a 25 l day pack which is more than sufficient if packed correctly. Our guides will also give you day by day advice on what to pack depending on altitude, weather etc. CLICK HERE to take a look at the list to give you an idea of what is carried in general.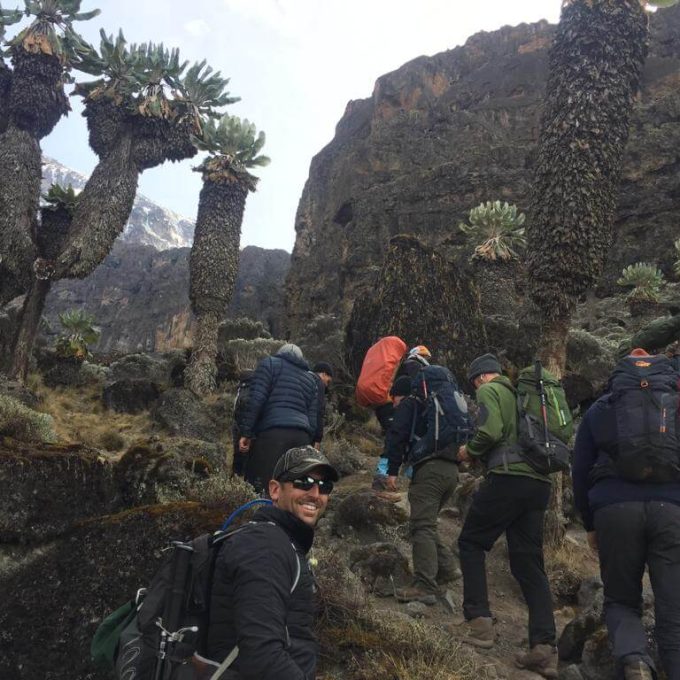 Break Time
Depending on the route and day you will have a short break before you reach the camp for lunch or a longer lunch break. After our break, we will head out for a 2-3 hour trek to the evening camp where you will be greeted with hot water to wash and freshen up and a hearty hot lunch.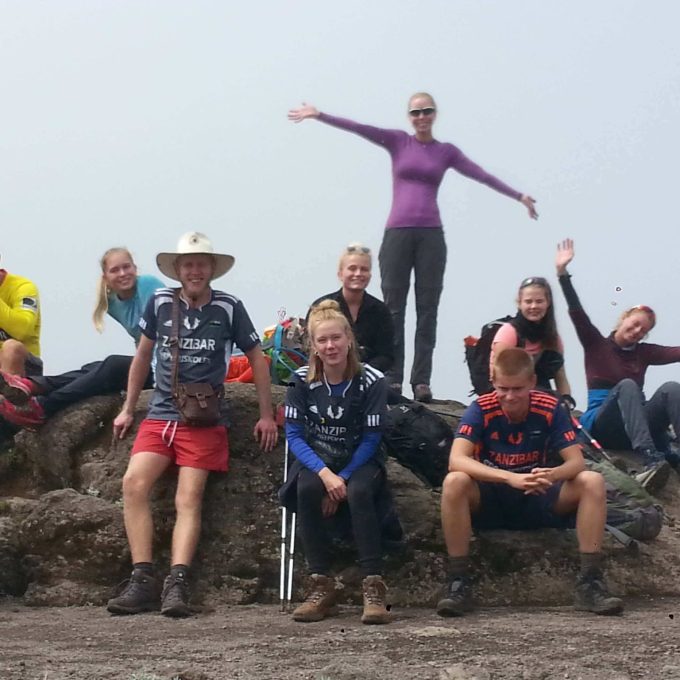 Lunch time at the camp..
After your arrival at the camp you will get hot water in a washing bowl and some snacks before lunch dinner is served in the mess-tent. This is a good time to have a chat with the rest of the team and reflect on your days experiences.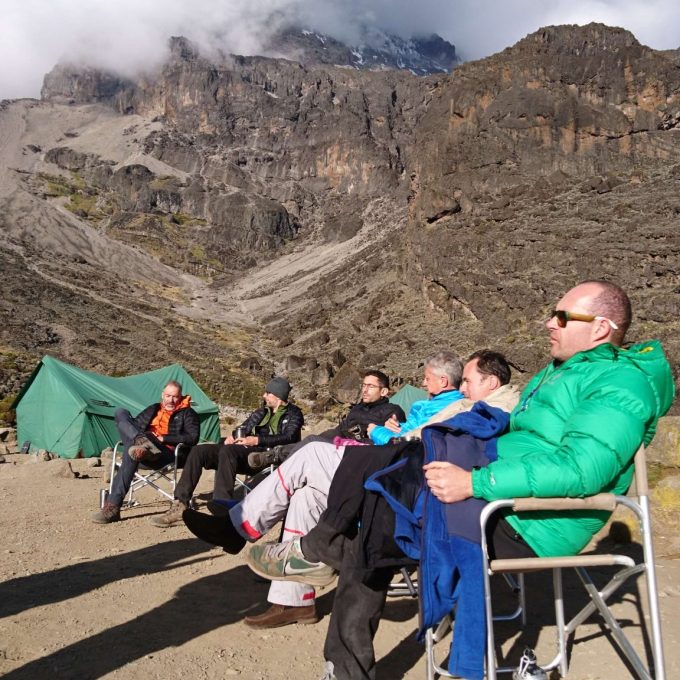 Dinner Time…
Dinner will be served. The final and biggest meal of the day, dinner will start with a soup, followed by a main course including chicken or meat, a vegetable sauce, some cabbage, and rice, chips or pasta.  After dinner the guides will meet you for the de-brief of the day- check your oxygen levels and give you an overview about the next day. Don't forget to take your headlamp with you before you go for dinner!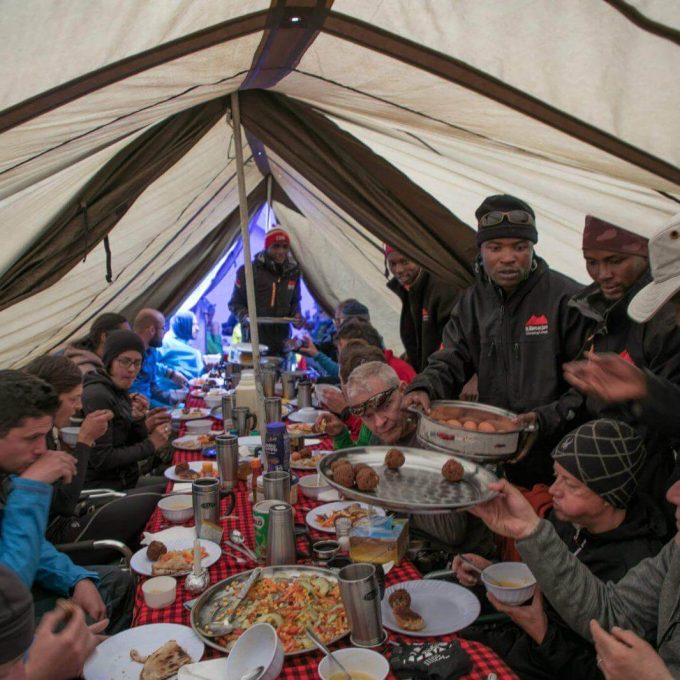 TIME TO SLEEP UNDER THE STARS