JOIN US ON A TREK AND A 1 DAY SAFARI
1 DAY SAFARI - TARANGIRE NATIONAL PARK
If you are pressed for time, this is a perfect solution to rounding off your Kilimanjaro Adventure.
Join a 1 Day Safari to Tarangire National Park - Home to some of the largest herds of elephants in Africa
The Migration Month by Month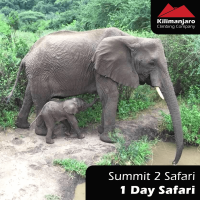 DAY 1
TARANGIRE NATIONAL PARK
Non game-viewing travel time:

4 hours

Distance:

240 km
After breakfast you are met by our professional tour guide/driver, who will deliver a short safari info briefing, after which we travel east to the Tarangire National Park. The park runs along the line of the Tarangire River and is mainly made up of low-lying hills on the Great Rift Valley floor. Its natural vegetation mainly consists of Acacia woodland and giant African Baobab trees, with huge swamp areas in the south. Both the river and the swamps act like a magnet for wild animals, during Tanzania's dry season. The Tarangire National Park is reputed to contain some of the largest elephant herds in Africa. We will enjoy a picnic lunch inside the park and do two exciting morning and afternoon game drives, along the Tarangire River. Late afternoon we depart for Arusha where we will end our safari adventure. The group should tip the tours guide around $20 for the day. You will be taken to your hotel, which ends our tour packages services.