7 DAY TREK + 2 nights accommodation
Climb Kilimanjaro Rongai Route in 7 days. A northern approach route with a view on Kenya and Amboseli Park, offering a true wilderness experience
The
Rongai route
offers the best chance to experience the wildlife surrounding Mt. Kilimanjaro and it is one of the quietest routes on the mountain. Over a period of 7 days, the Rongai route offers ample time to acclimatise. It starts on the North Eastern side of Kilimanjaro close to the border with Kenya.
The Rongai route passes close to Mawenzi before joining the Marangu Route at Kibo Hut and ascending to Gilman's point before heading for Uhuru Peak. Descent is via the Marangu Route with a night spent at Horombo Hut before heading to Marangu Gate.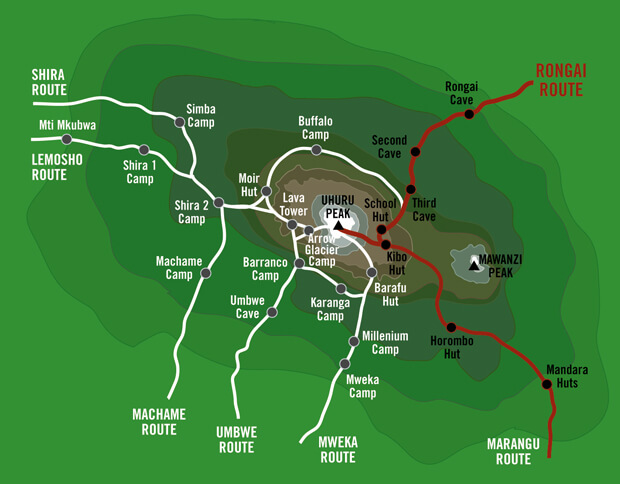 DETAILED ITINERARY
DAY TO DAY
WHAT IS INCLUDED IN THE PRICE?
OUR TREK ITEMS & SERVICES INCLUDE
Accommodation & Logistics
Two nights bed and breakfast hotel accommodation
Return transfers to and from the kilimanjaro gate
Excess gear storage at hotel
KCC Operations Manager on standby for you during your stay
Expedition briefing & equipment check
Kilimanjaro park & camping fees
Expedition porters & cooks
3 hot meals per day & snacks at camp
Uhuru Peak or Stella Point certificate of achievement
Medical oxygen and means of evacuation off the mountain
High quality 3 man Berghaus expedition sleeping tents
Mess tent with table & chairs
Boiled water for drinking & washing
Items & services NOT included
International flights to and from Kilimanjaro
Entry visa ($50 Europe / $100 USA) - which can be obtained upon arrival
Personal travel INSURANCE (specific to high altitude trekking and travel in rural Africa)
Vaccinations for travel to region
COMBINE YOUR KILIMANJARO TREK WITH A SAFARI
SUMMIT TO SAFARI & BEACH
Why not extend your adventure with an unforgettable 
safari 
SCHEDULED OPEN GROUP TREKS
7 DAY RONGAI ROUTE DATES FOR 2023
| ROUTE | ROUTE | TREK START | TREK FINISH | PRICE PER PERSON | BOOK NOW |
| --- | --- | --- | --- | --- | --- |
| | 7 DAY RONGAI | 12.02.2023 | 18.02.2023 | $ 2799 | BOOK NOW |
| | 7 DAY RONGAI | 12.03.2023 | 18.03 | $ 2799 | BOOK NOW |
| | 7 DAY RONGAI | 18.06.2023 | 24.06.2023 | $ 2799 | BOOK NOW |
| | 7 DAY RONGAI | 09.07.2023 | 15.07.2023 | $ 2799 | BOOK NOW |
| | 7 DAY RONGAI | 13.08.2023 | 19.08.2023 | $ 2799 | BOOK NOW |
| | 7 DAY RONGAI | 17.09.2023 | 23.09.2023 | $ 2799 | BOOK NOW |
| | 7 DAY RONGAI | 16.10.2023 | 22.10.2023 | $ 2799 | BOOK NOW |
| | 7 DAY RONGAI | 11.12.2023 | 17.12.2023 | $ 2799 | BOOK NOW |