The Northern Circuit
Almost a complete circuit of Kilimanajro
Northern Circuit Overview
The Northern Circuit Route is a relatively new route and is undoubtedly the most remote and quite option taking you on a circumnavigation of Kilimanjaro.  Due to its longer walk, this "grand traverse" of Kilimanjaro from west to east offers a very high summit success rate due to its longer walk and acclimatization advantage.
The Northern Circuit route starts at 2360m on the far west of Kilimanjaro. It traverses through rainforest, where wild game may be seen, continuing up to Shira Ridge, Kilimanjaro's third summit. From here you will ascend and cross the expansive Shira Plateau with fantastic views of Shira Cathedral.  It then turns north and works around the remote northern slopes of Kilimanjaro overlooking Kenya and the famous Amboseli National Park.
The descent is via the Mweka trail, making a more interesting climb. Most climbers who are fit and well-acclimatised take 9 days to climb Kilimanjaro by the Northern Circuit route.
Key Points:
Newest and longest route on Kilimanjaro
Fantastic views with great acclimatisation
Almost a circumnavigation of the mountain starting from the West
The Northern Circuit
from $2899
per person sharing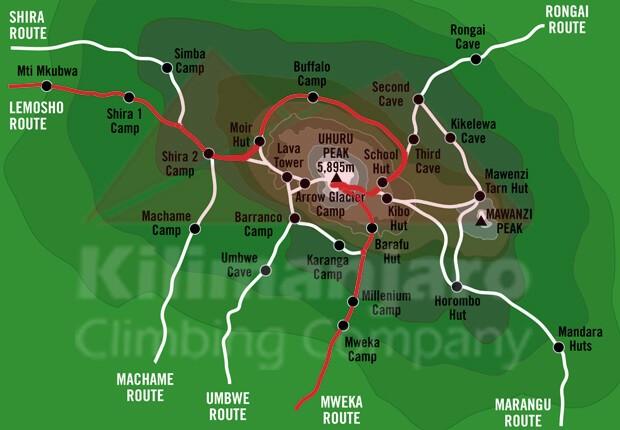 The Northern Circuit Day-tp-Day Itinerary
What's Included
Return airport transfer from Kilimanjaro International Airport to your hotel

Two nights bed and breakfast hotel accommodation

An expedition briefing prior to leaving for the mountain

Kilimanjaro park entry permits

Kilimanjaro park camping permits

Mountain rescue permit

Helicopter evacuation registration fee

Bilingual guides

Expedition porters and cooks

Expedition food to include a hot breakfast,packed lunch, a hot evening meal and snack food available at camp + hot drinks.

Staff transport, meals & wages

High quality sleeping tents, 2 persons per tent

Mess tent with tables and chairs

Priv

Safety equipment to include short wave radios, a satellite phone, oxymeters, oxygen cylinder, large expedition first aid kit and means of evacuation.ate toilet

Uhuru or Stella Point certificate of achievement
What's Not Included
Return flights to/from Kilimanjaro International Airport
Entry Visa ($50 Europe/ $ 100 USA) can be obtained on entry
Personal travel INSURANCE (specific to high altitude trekking and travel in rural Africa)
Gratuities
Vaccinations for travel to region
The Northern Circuit 9 Day Trek Availability - 2021