8 DAY TREK + 2 nights accommodation
Challenge yourself and climb to the roof of Africa through the Lemosho Route. Lemosho is great for acclimatisation with wonderful scenery and high success rates.
Due to its length, and the ascent and descent over the duration of each expedition the Lemosho Route offers the best chance to summit Uhuru Peak at 5.985m. This route is unspoilt, remote, beautiful and not so frequently used on the way up to Shira Plateau. It is one of the few routes where an armed ranger accompanies groups, as the bush around the Lemosho Glades is rich in buffalo and other big game and takes you in some of the most beautiful geological features on the mountain e.g. Shira Plateau, Lava Tower, Baranca Wall. Descent is via Mweka Route.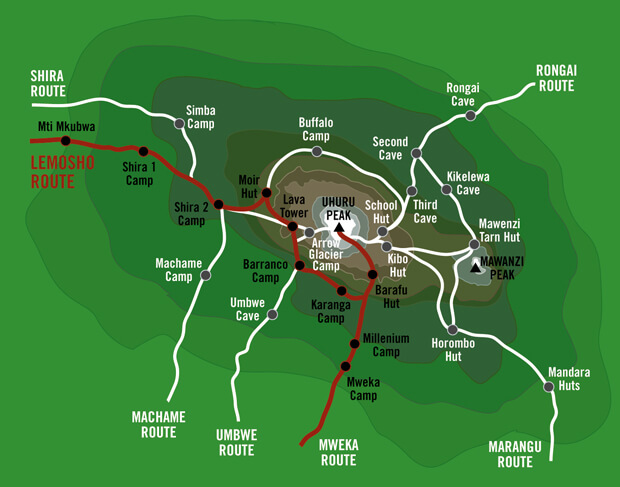 DETAILED ITINERARY
DAY TO DAY
WHAT IS INCLUDED IN THE PRICE?
OUR TREK ITEMS & SERVICES INCLUDE
Accommodation & Logistics
Two nights bed and breakfast hotel accommodation
Return transfers to and from the kilimanjaro gate
Excess gear storage at hotel
KCC Operations Manager on standby for you during your stay
Expedition briefing & equipment check
Kilimanjaro park & camping fees
Expedition porters & cooks
3 hot meals per day & snacks at camp
Uhuru Peak or Stella Point certificate of achievement
Medical oxygen and means of evacuation off the mountain
High quality 3 man Berghaus expedition sleeping tents
Mess tent with table & chairs
Boiled water for drinking & washing
Items & services NOT included
International flights to and from Kilimanjaro
Entry visa ($50 Europe / $100 USA) - which can be obtained upon arrival
Personal travel INSURANCE (specific to high altitude trekking and travel in rural Africa)
Vaccinations for travel to region
COMBINE YOUR KILIMANJARO TREK WITH A SAFARI
SUMMIT TO SAFARI & BEACH
Why not extend your adventure with an unforgettable 
safari 
SCHEDULED OPEN GROUP TREKS
8 DAY LEMOSHO ROUTE DATES FOR 2022 & 2023
| | 8 DAY LEMOSHO | 15.10.2023 | 22.10.2023 | $ 2899 | BOOK NOW |
| --- | --- | --- | --- | --- | --- |
| | 8 DAY LEMOSHO | 10.12.2023 | 17.12.2023 | $ 2899 | BOOK NOW |
2024 DATES & PRICES
ROUTE
ROUTE
TREK START
TREK FINISH
PRICE PER PERSON
BOOK NOW

8 DAY LEMOSHO
12.01.2024

19.01.2024
$ 2899
BOOK NOW
8 DAY LEMOSHO
26.01.2024
02.02.2024
$ 2899
BOOK NOW
8 DAY LEMOSHO
09.02.2024

16.02.2024
$ 2899
BOOK NOW
8 DAY LEMOSHO
16.02.2024
23.02.2024
$ 2899
BOOK NOW
8 DAY LEMOSHO

SOLO TRAVELLERS TREK
TREK START - 02.03.2024


TREK FINISH - 09.03.2024


$ 2799
BOOK NOW
8 DAY LEMOSHO
15.03.2024

22.03.2024
$ 2899
BOOK NOW
8 DAY LEMOSHO
29.03.2024
05.04.2024
$ 2899
BOOK NOW
8 DAY LEMOSHO
07.06.2024

14.06.2024
$ 2899
BOOK NOW
8 DAY LEMOSHO
14.06.2024

21.06.2024
$ 2899
BOOK NOW
8 DAY LEMOSHO
21.06.2024
28.06.2024
$ 2899
BOOK NOW
8 DAY LEMOSHO
28.06.2024
05.07.2024
$ 2899
BOOK NOW
8 DAY LEMOSHO
05.07.2024
12.07.2024
$ 2899
BOOK NOW
8 DAY LEMOSHO
12.07.2024
19.07.2027
$ 2899
BOOK NOW
8 DAY LEMOSHO
19.07.2024
26.07.2024
$ 2899
BOOK NOW
8 DAY LEMOSHO
26.07.2024
02.08.2024
$ 2899
BOOK NOW
8 DAY LEMOSHO
02.08.2024
09.08.2024
$ 2899
BOOK NOW
8 DAY LEMOSHO
09.08.2024
16.08.2024
$ 2899
BOOK NOW
8 DAY LEMOSHO

SOLO TRAVELLERS TREK
16.08.2024
23.08.2024
$ 2899
BOOK NOW
8 DAY LEMOSHO
23.08.2024
30.08.2024
$ 2899
BOOK NOW
8 DAY LEMOSHO
30.08.2024
06.09.2024
$ 2899
BOOK NOW
8 DAY LEMOSHO
06.09.2024
13.09.2024
$ 2899
BOOK NOW
8 DAY LEMOSHO
13.09.2024
20.09.2024
$ 2899
BOOK NOW
8 DAY LEMOSHO
20.09.2024
27.09.2024
$ 2899
BOOK NOW
8 DAY LEMOSHO
27.09.2024
04.10.2024
$ 2899
BOOK NOW
8 DAY LEMOSHO
04.10.2024
11.10.2024
$ 2899
BOOK NOW
8 DAY LEMOSHO
11.10.2024
18.10.2024
$ 2899
BOOK NOW
8 DAY LEMOSHO
18.10.2024
25.10.2024
$ 2899
BOOK NOW
8 DAY LEMOSHO
25.10.2024
01.11.2024
$ 2899
BOOK NOW
8 DAY LEMOSHO
06.12.2024
13.12.2024
$ 2899
BOOK NOW
8 DAY LEMOSHO
13.12.2024
20.12.2024
$ 2899
BOOK NOW