Accommodation & Logistics
Hotel Pick & Drop off after safari
Two nights bed and breakfast hotel accommodation
Return transfers to and from the kilimanjaro gate
Excess gear storage at hotel
KCC Operations Manager on standby for you during your stay
Expedition briefing & equipment check
Kilimanjaro park & camping fees
Expedition porters & cooks
3 hot meals per day & snacks at camp
Uhuru Peak or Stella Point certificate of achievement
Medical oxygen and means of evacuation off the mountain
High quality 3 man Berghaus expedition sleeping tents
Mess tent with table & chairs
Boiled water for drinking & washing
Items & services NOT included
International flights to and from Kilimanjaro
Entry visa ($50 Europe / $100 USA) - which can be obtained upon arrival
Personal travel INSURANCE (specific to high altitude trekking and travel in rural Africa)
Vaccinations for travel to region
JOIN US ON A 7 DAY KILIMANJARO TREK
7 DAY MACHAME ROUTE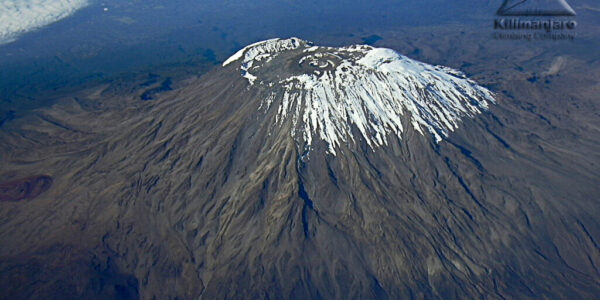 Day 1
Following a final cross-check of equipment and supplies, our staff will drive you to the Machame Gate. Anything you do not want to take with you on the mountain can be left at a lock up in the hotel. The drive from Arusha to the Machame Gate takes about 50 minutes. The journey passes through the village of Machame which is located on the lower slopes of the mountain. As we leave the park gate, we walk through the dense rain forest on a winding trail up a ridge until we reach the Machame Camp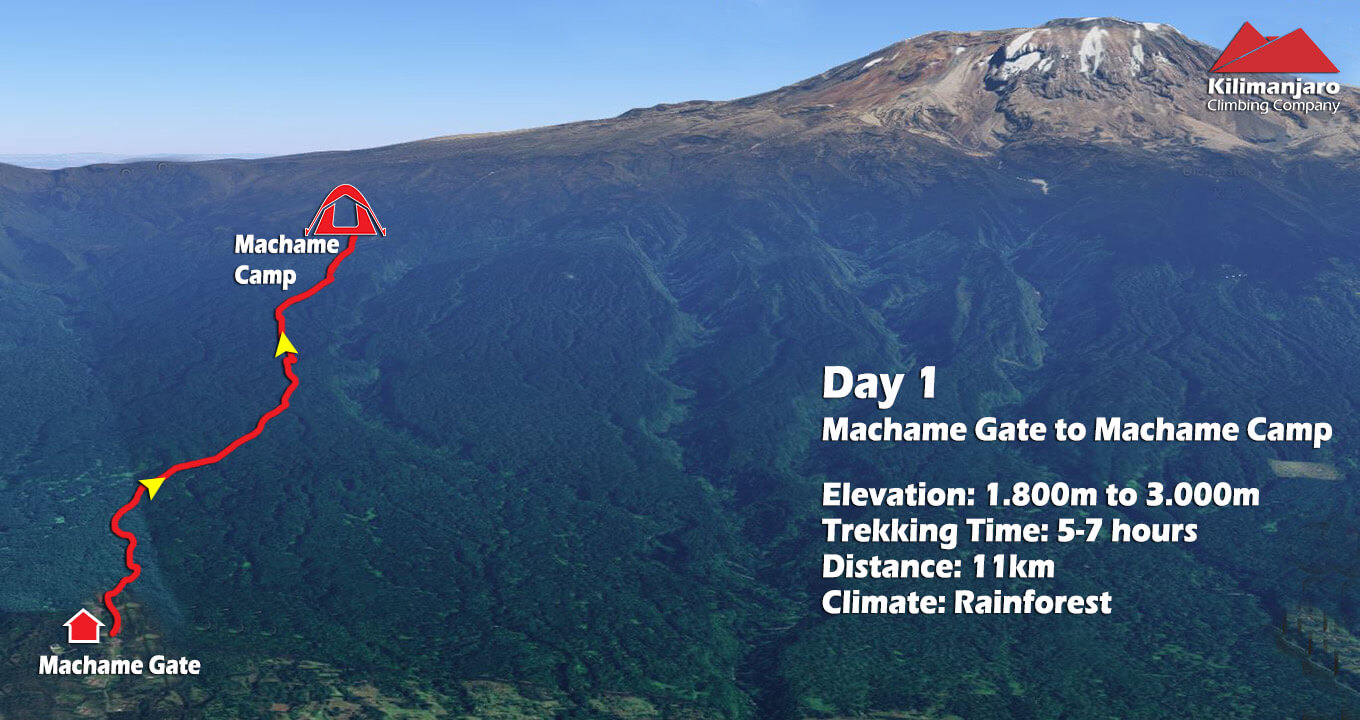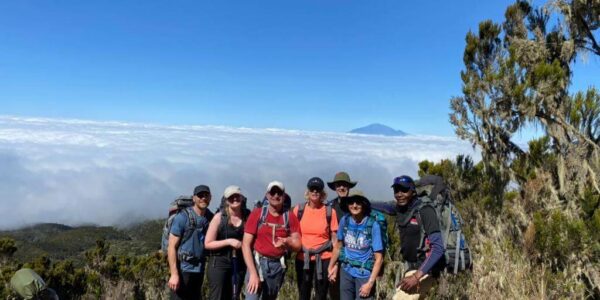 Day 2
You will be woken up after your first night on the mountain with a nice cup of coffee, tea or hot chocolate at 6:30am in your tent. After breakfast we leave the rainforest and continue our ascent crossing a small valley into open moorlands where the vegetation is sparse with small shrubs and up to a steep rocky ridge. After a short break, our route turns onto a river gorge and up to Shira Plateau where you will catch your first glimpse of the Western Breach and its stunning glaciers. Continuing on to Shira Camp, where the cook will welcome you with boiled drinking water and hot washing water. After a hot lunch, there is plenty of time to explore the Shira Caves or just relax and rest until being served your hot dinner. Due to the camp being very exposed it can get very cold and sometimes windy.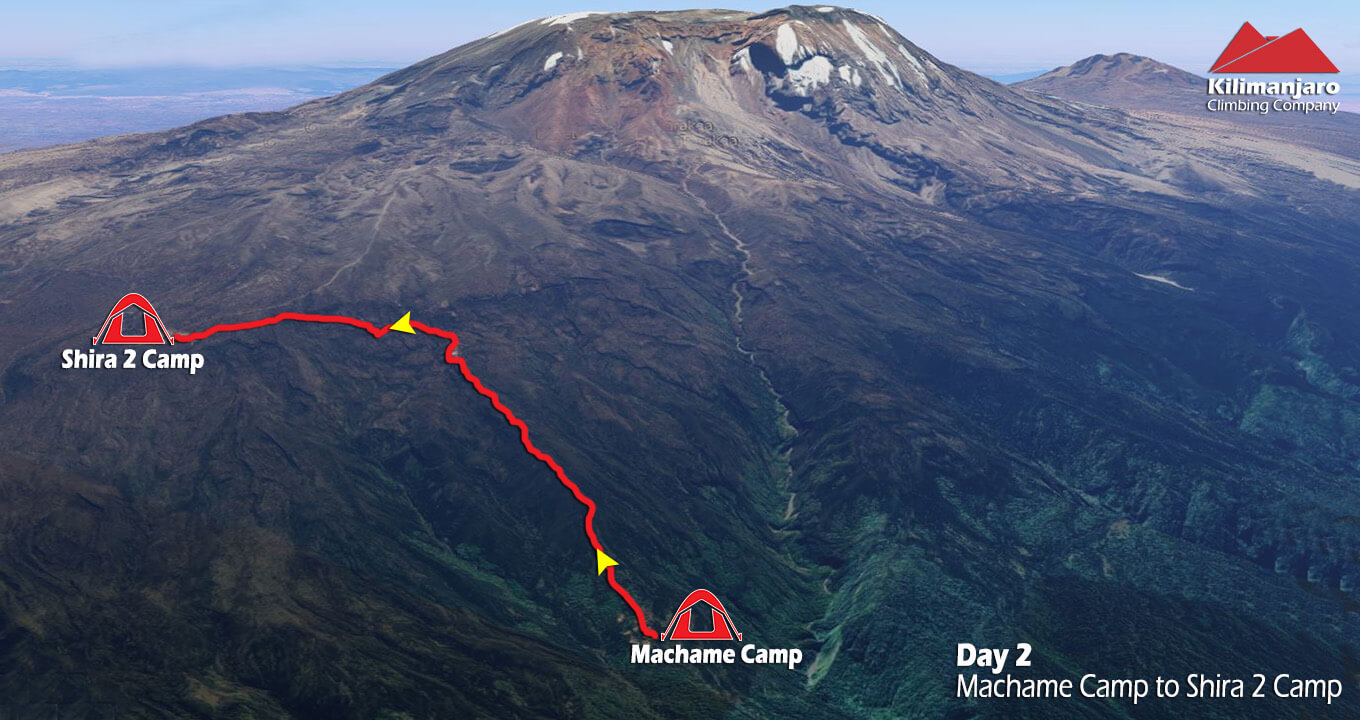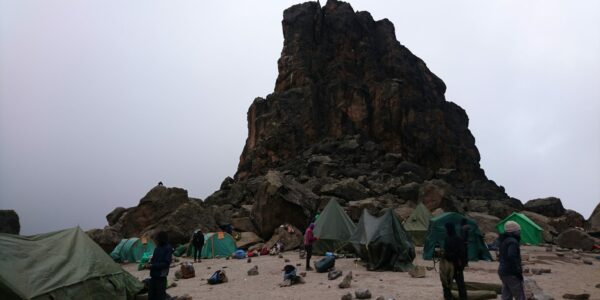 Day 3
We pack up and leave Shira camp for a 4-5 hour trek to the well-known landmark of Lava Tower (4.600m) for acclimatization. Once reaching Lava Tower we will have a short break for lunch for some bonus acclimatization before starting a 2 hour descent by 650m to Barranco Camp, following the golden rule of acclimatization 'climb high and sleep low'. This will be our toughest day so far but the climb offers multiple terrific opportunities for photos. As we descend through the valley, the amazing sight of the Giant Groundsels is bound to stop you in your tracks. Barranco Camp gives you a beautiful view of the Western Breach and Breach Wall and be prepared with your camera while you are waiting for dinner for what could be one of the most spectacular sunsets you have ever seen as the sun drops down into the valley.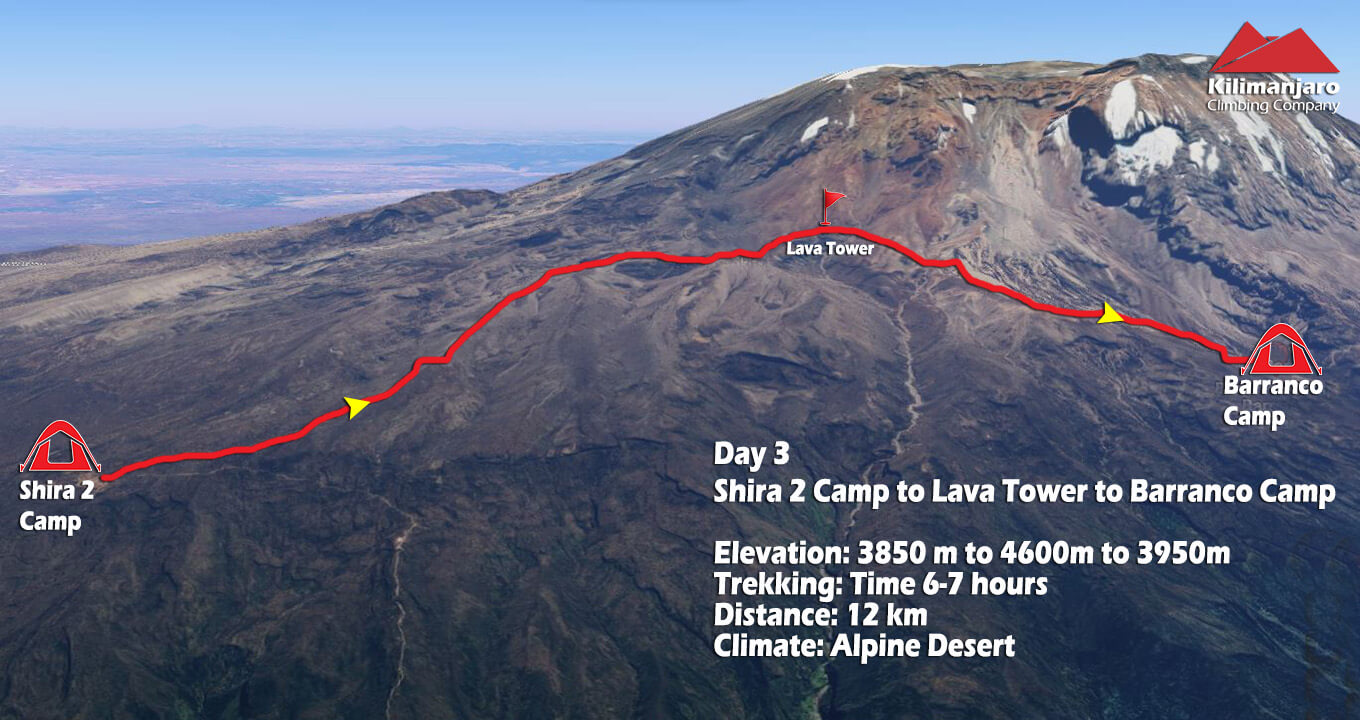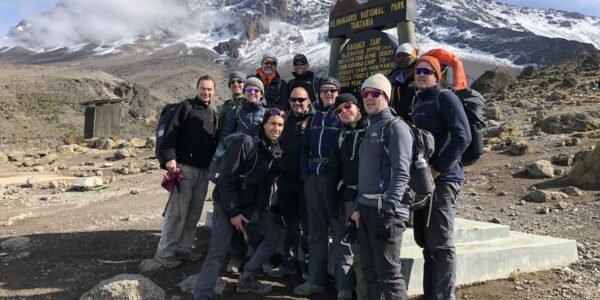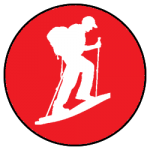 Day 4
We begin the day by descending into a ravine to the base of the Great Barranco Wall. Then we climb the non-technical but steep, nearly 900 ft cliff. From the top of the Barranco Wall we cross a series of hills and valleys until we descend sharply into Karanga Valley. One more steep climb up leads us to Karanga Camp. This is a shorter day meant for acclimatization.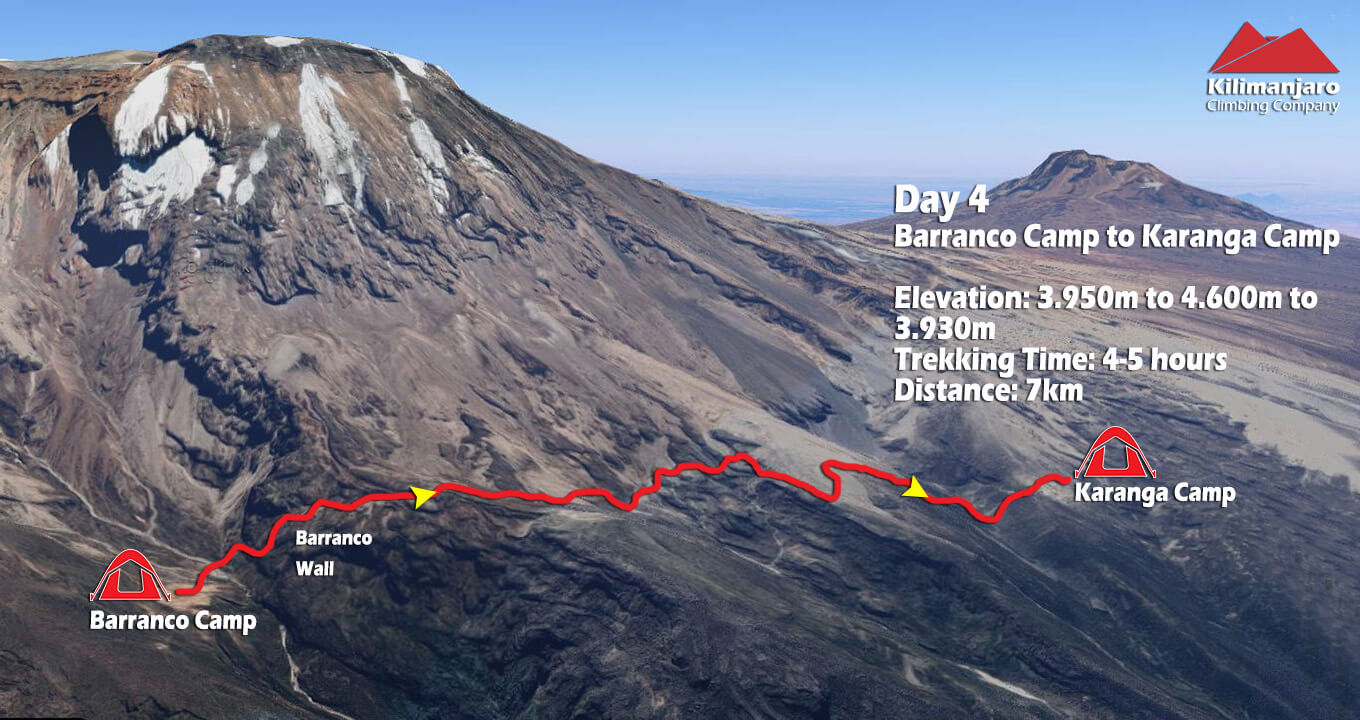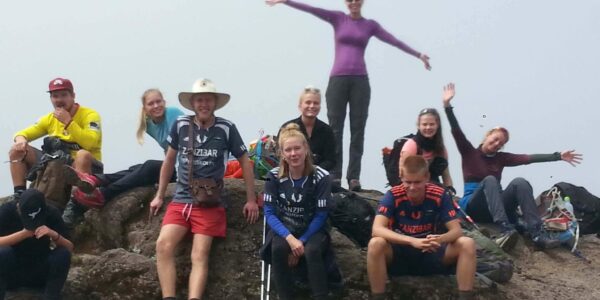 Day 5
We leave Karanga and hit the junction which connects with the Mweka Trail. We continue up to the rocky section to Barafu Hut. At this point, you have completed the Southern Circuit, which offers views of the summit from many different angles. After a short break, we will push on to our special camp - Kosovo. This is our secret weapon for acclimatisation - leaving the crowds of Barafu we will ascend 4800m Here we make camp, rest and enjoy an early dinner to prepare for the summit day. The two peaks of Mawenzi and Kibo are viewable from this position.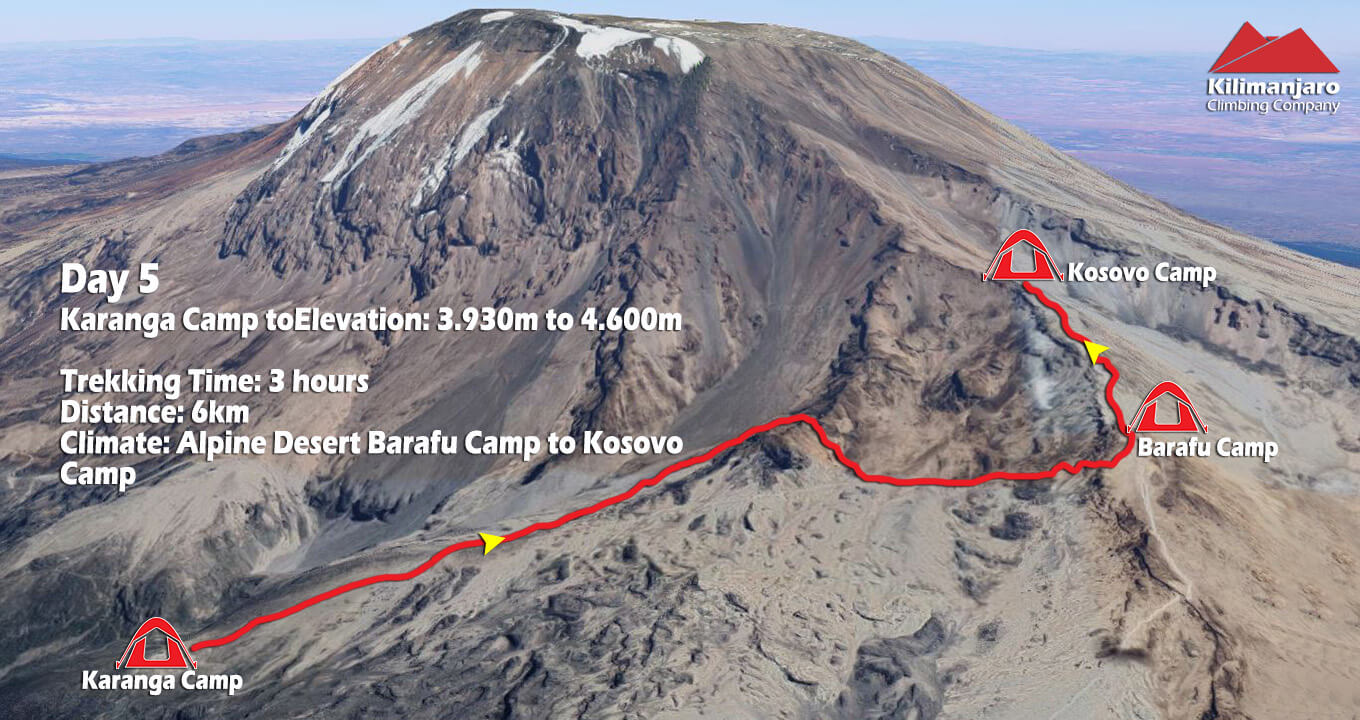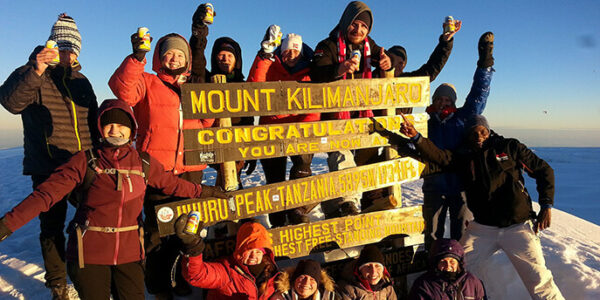 Day 6 - SUMMIT DAY  - Part 1
Very early in the morning (around midnight), we begin our push to the summit. This is the most mentally and physically challenging portion of the trek. The wind and cold at this elevation and time of day can be extreme. We ascend in the darkness for several hours while taking frequent, but short, breaks. Near Stella Point (18,900 ft), you will be rewarded with the most magnificent sunrise you are ever likely to see coming over Mawenzi Peak. Finally, we arrive at Uhuru Peak- the highest point on Mount Kilimanjaro and the continent of Africa.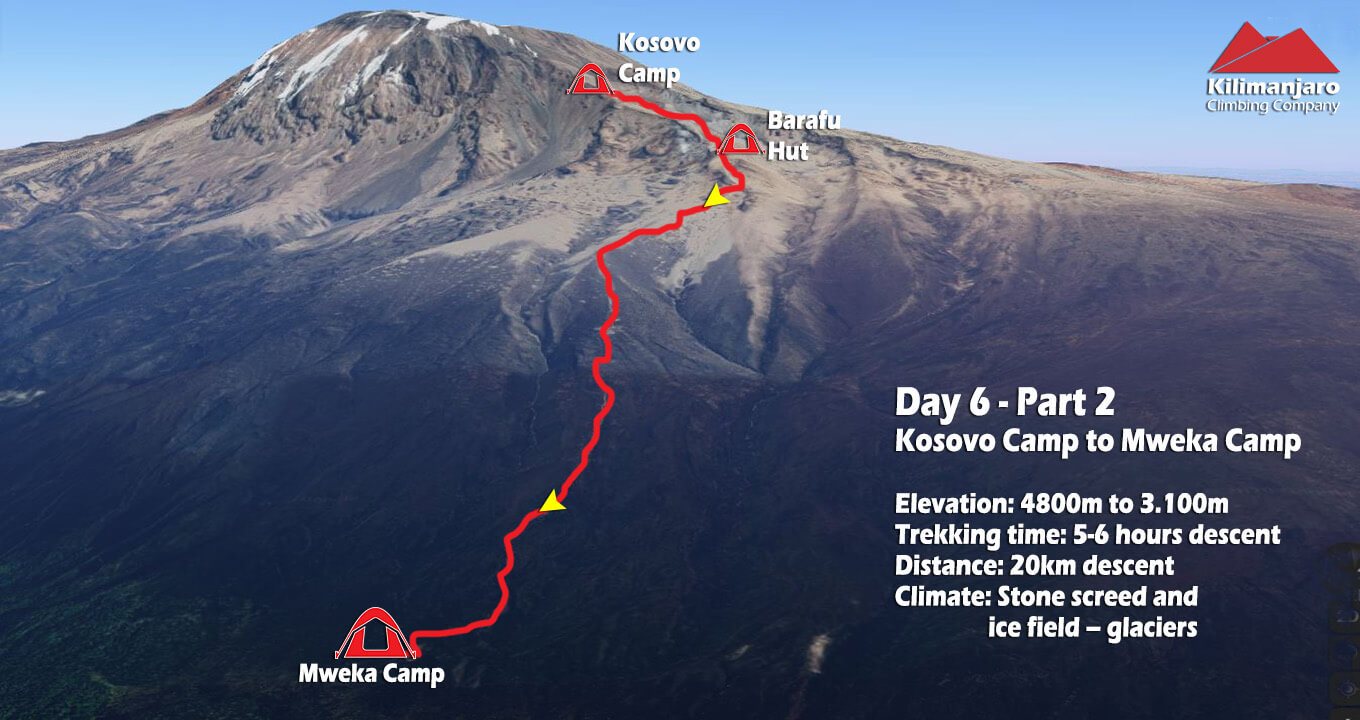 Day 6 - SUMMIT DAY - Part 2
From the summit, we now make our descent continuing straight down to the Mweka Hut camp site, stopping at Barafu for lunch. The trail is very rocky and can be quite hard on the knees; trekking poles are helpful. Mweka Camp is situated in the upper forest and mist or rain can be expected in the late afternoon. Later in the evening, we enjoy our last dinner on the mountain and a well-earned sleep.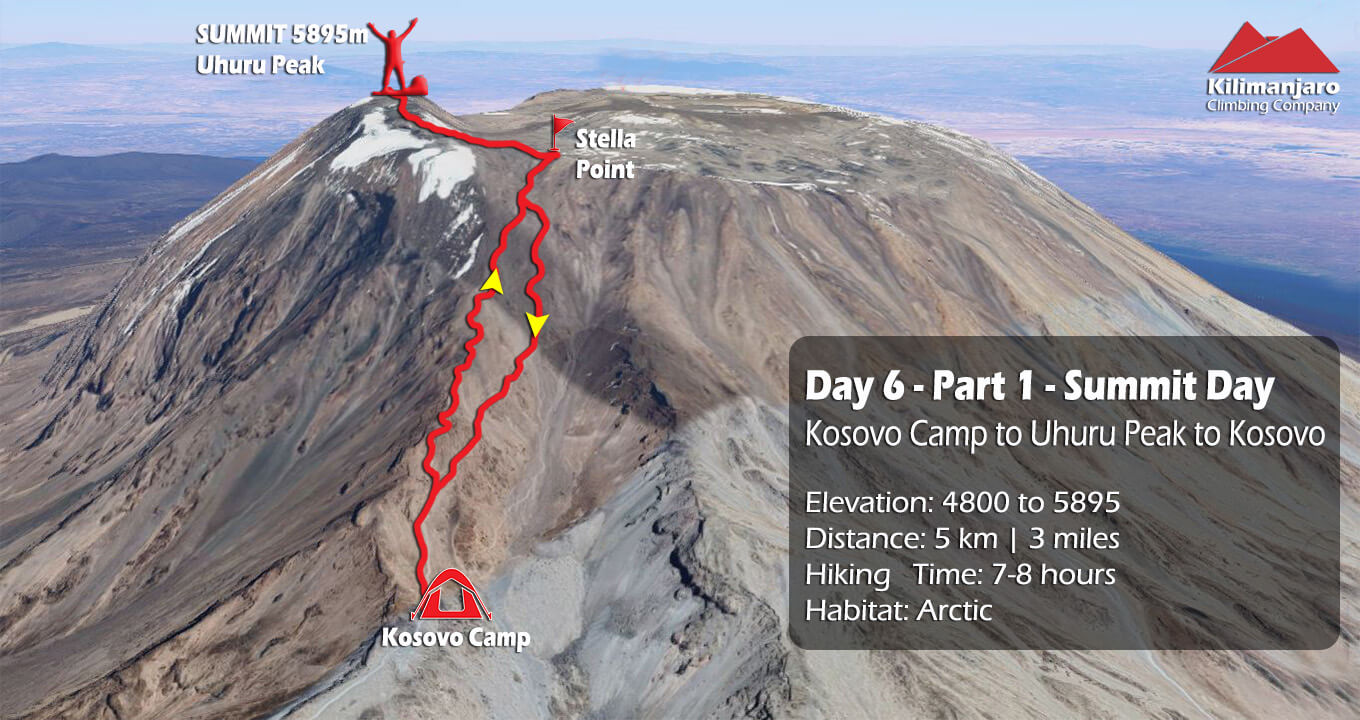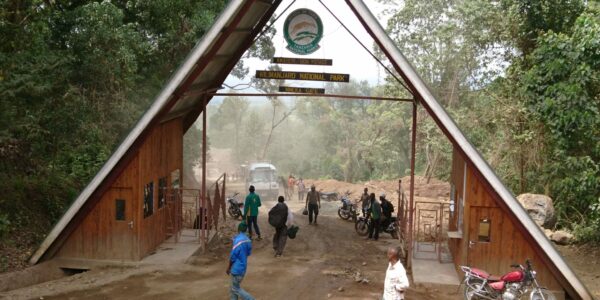 JOIN US ON A TREK AND A 4 DAY SAFARI
ARUSHA - TARANGIRE NATIONAL PARK - SERENGETI - NGORONGORO CRATER - ARUSHA
Our 4-day African safaris, tours, travel and trekking packages, specifically include the Serengeti National Park and the world famous Serengeti plains. It is one of our more popular safari tours and is most frequently booked as an add-on by Kilimanjaro climbers or Zanzibar divers. You will experience the excitement of an African wildlife safari to some of the most spectacular national game parks in East Africa, all teeming with wildlife animals.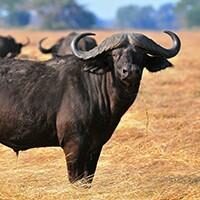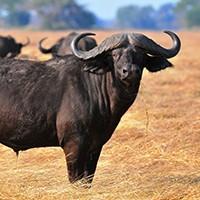 DAY 1
TARANGIRE NATIONAL PARK
Non game-viewing travel time:

4 hours

Distance:

240 km
After breakfast you are met by our professional tour guide/driver, who will deliver a short safari info briefing, after which we travel east to the Tarangire National Park. The park runs along the line of the Tarangire River and is mainly made up of low-lying hills on the Great Rift Valley floor. Its natural vegetation mainly consists of Acacia woodland and giant African Baobab trees, with huge swamp areas in the south. Both the river and the swamps act like a magnet for wild animals, during Tanzania's dry season. The Tarangire National Park is reputed to contain some of the largest elephant herds in Africa. We will enjoy a picnic lunch inside the park and do two exciting morning and afternoon game drives, along the Tarangire River. Late afternoon we depart for our lodge where you can sit back with a relaxing sundowner drink while waiting for dinner.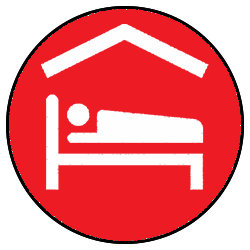 MARAMBOI TENTED LODGE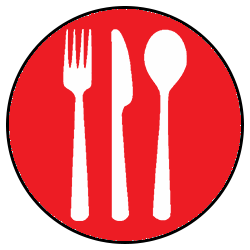 FULL BOARD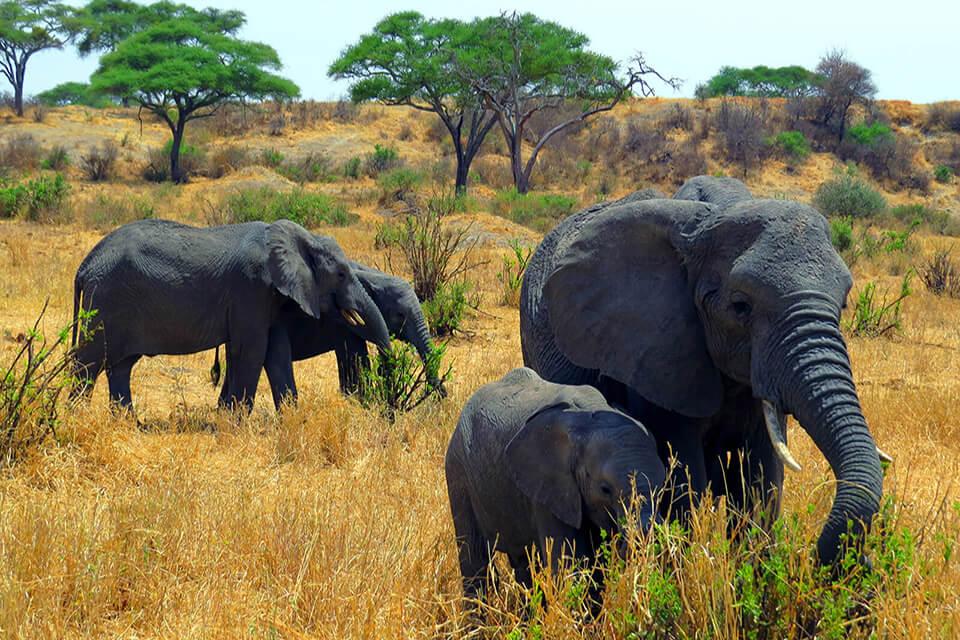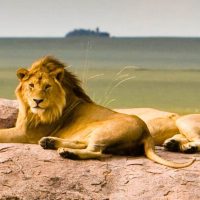 DAY 2
SERENGETI NATIONAL PARK
Non game-viewing travel time:

4 hours

Distance:

205 km
After breakfast we head towards the Serengeti National Park, via the beautiful high lying farmland of Karatu and the Ngorongoro Conservation Area. Leaving the highlands behind, we descend into the heart of wild Africa – the Serengeti National Park – with its endless plains, rolling into the distance as far as the eye can see. We head to the central park area, known as the Seronera area, one of the richest wildlife habitats in the park, featuring the Seronera River, which provides a valuable water source to this area and therefore attracts wildlife well representative of most of the Serengeti's species. We arrive in time for lunch and enjoy an afternoon game drive in the Serengeti national park.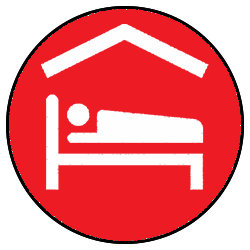 KATI KATI TENTED LODGE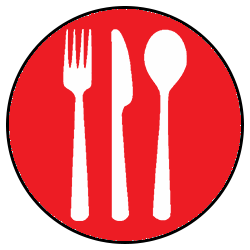 FULL BOARD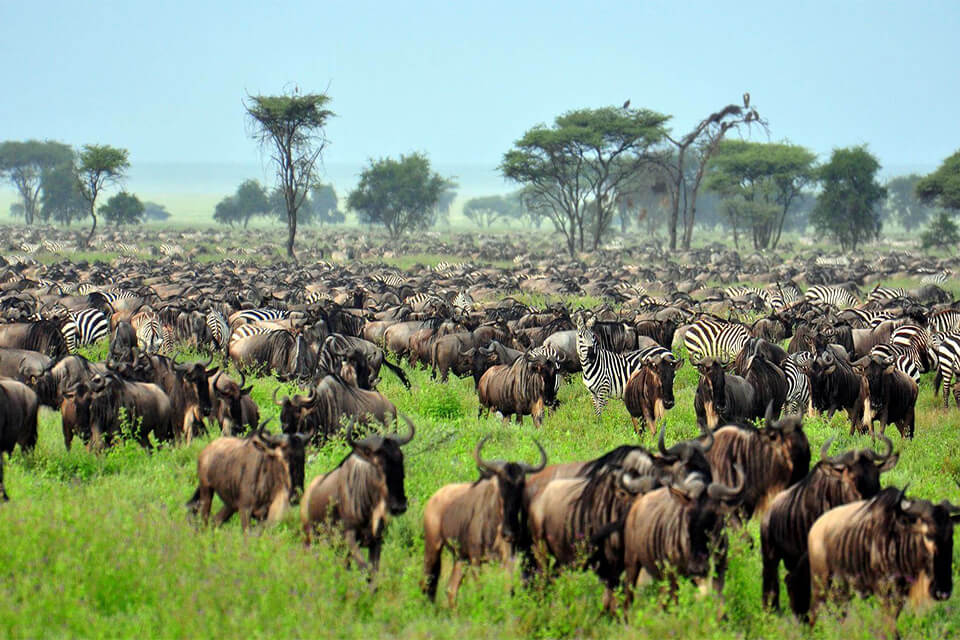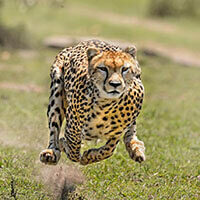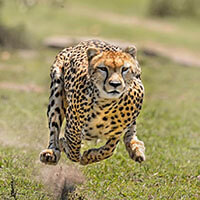 DAY 3
SERENGETI - NGORONGORO CRATER
Non game-viewing travel time:4

 hours 

Distance:

145km
After breakfast we depart for the Ngorongoro Conservation area. Our drive takes us back through the Serengeti via a different route, offering plenty of opportunities to spot the animals that eluded you on day two. We will stopover at Olduvai Gorge, boasting with a history dating back to the dawn of time. It was here, that the anthropologists Drs. Loisand Mary Leakey discovered the skulls of ' Nutcracker Man' and 'Handy Man', both very significant links in the chain of human evolution.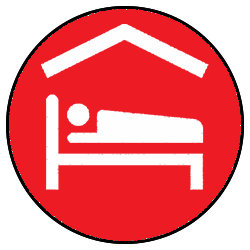 NGORONGORO SOPA LODGE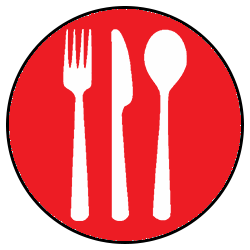 FULL BOARD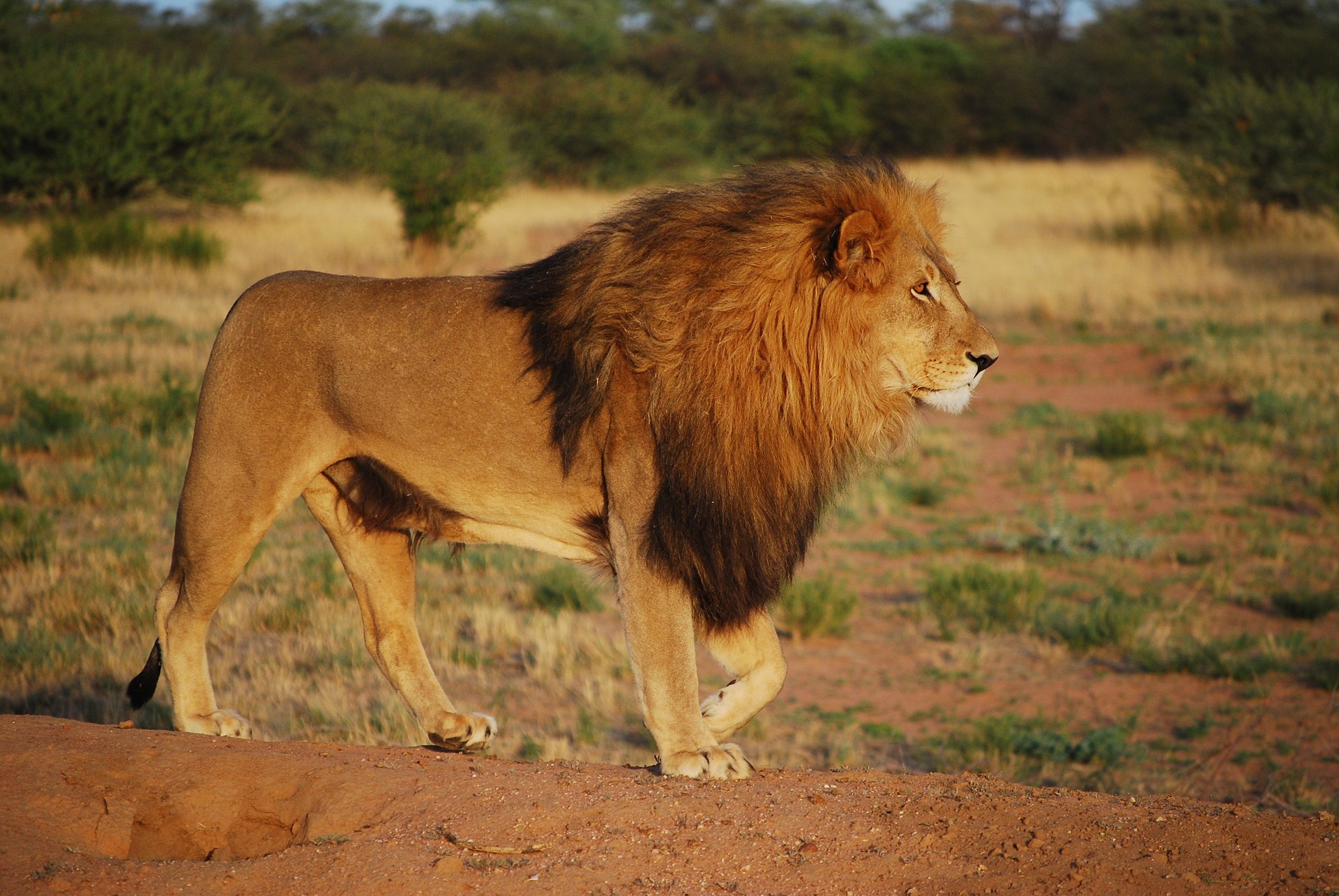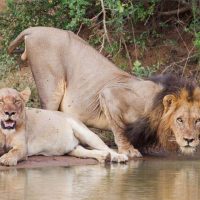 DAY 4
NGORONGORO CRATER
Non game-viewing travel time: 4

 hours

Distance: 190

 km
After an early breakfast we will descend over 600 meters into the crater to view wildlife for a half day's safari tour. Supported by a year round water supply and fodder, the Ngorongoro National Park supports a vast variety of animals, which include herds of wildebeest, zebra, buffalo, eland, warthog, hippo, and giant African elephants.
Another big draw card to this picturesque national park, is it's dense population of predators, which include lions, hyenas and jackals, cheetahs and the ever-elusive leopard, which sometimes requires a trained eye to spot. We will visit Lake Magadi, a large but shallow alkaline lake in the southwestern corner, which is one of the main features of the crater. A large number of flamingos, hippos and other water birds can usually been seen here.
After the thrills and excitement of the day, you will have a picnic lunch by the park's famous hippo pool. Thereafter, you will drive back to Arusha. Upon arrival in Arusha will we will end our African safari adventure.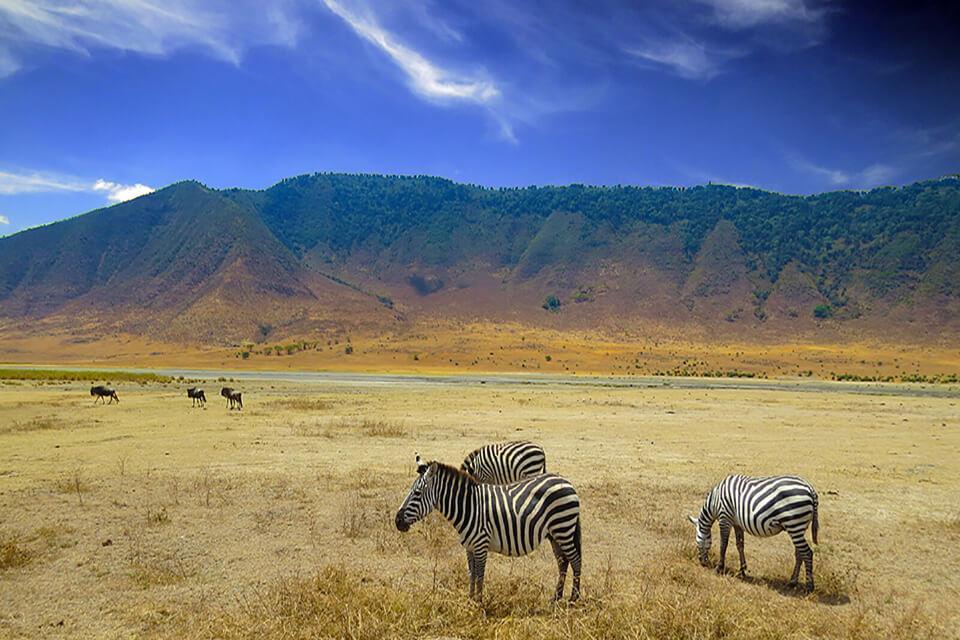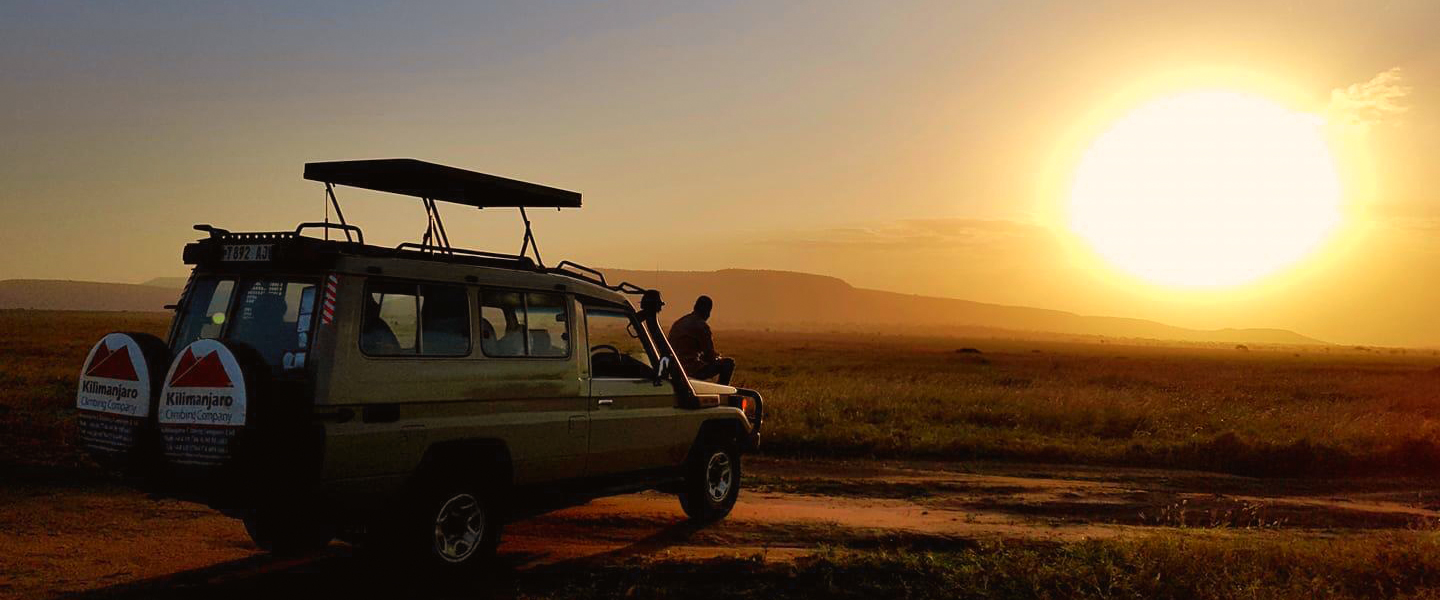 Our Vehicles
For our safaris we use four wheel drive Toyota Land Cruisers – the standard for safaris in Africa.  Comfortably seating up to six passengers, our well maintained vehicles with custom pop up roofs offer the best game viewing experience.
Staffed by professional safari guides who have intimate knowledge of the National Parks of Northern Tanzania, our experts know where to find the wildlife, either through experience or through a network of communication with other guides. They can spot animals from great distances and do their best to bring you close for an unforgettable encounter with Africa's majestic animals.